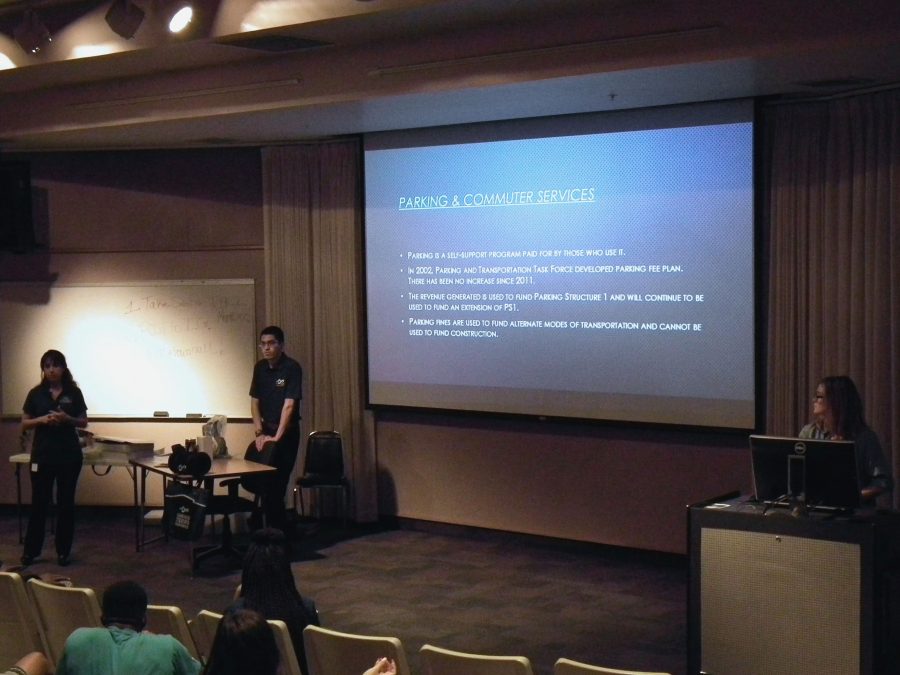 Micaela Johansson
Associated Students Inc. (ASI) representatives organized a student town hall meeting on April 21 where they discussed student issues and concerns including academic and parking permit fees.
"My goal for this is to have students more aware about what's going on and feel more comfortable with connecting with ASI," said ASI Representative of College of Science and Mathematics, Rhiannon Ripley, who is also The Cougar Chronicle Editorial Assistant.
Board members presented information regarding topics like the CFA vs. CSU tentative agreement, parking fees, new academic fees, newly appointed board of directors members and open positions for board of directors.
Representatives gave information about each topic, and students in attendance were encouraged to ask questions.
"[We want] to inform more students about issues that they have concerns over," said ASI Representative of College of Humanities, Arts, Behavioral and Social Sciences, Chris Morales. "A lot of people have questions and a lot of people have misinformation regarding these [topics]  and that's something we want to clarify and [have] really open autonomy for students to talk to us whenever they feel comfortable to discuss any issues they have."
The representatives explained the results of the CFA agreement, giving students a better understanding that the money to pay for faulty raises would come from the state level and when faculty would get their 5 percent raise for this academic year which is on June 30, 2016. They also explained what the Academic Excellence and Student Success Fee is a fee which would provide more funding for courses, equipment and facilities.
New topics were brought up by students, like concerns over the University Student Union and how there should be more study space and computer labs for students.
ASI has hosted a total of three town hall meetings during the 2015-2016 school year, which have also focused on student fees and the CFA strike.
Students who didn't have an opportunity to attend the town hall meeting and have questions or concerns can stop by the ASI office located in USU 3700.