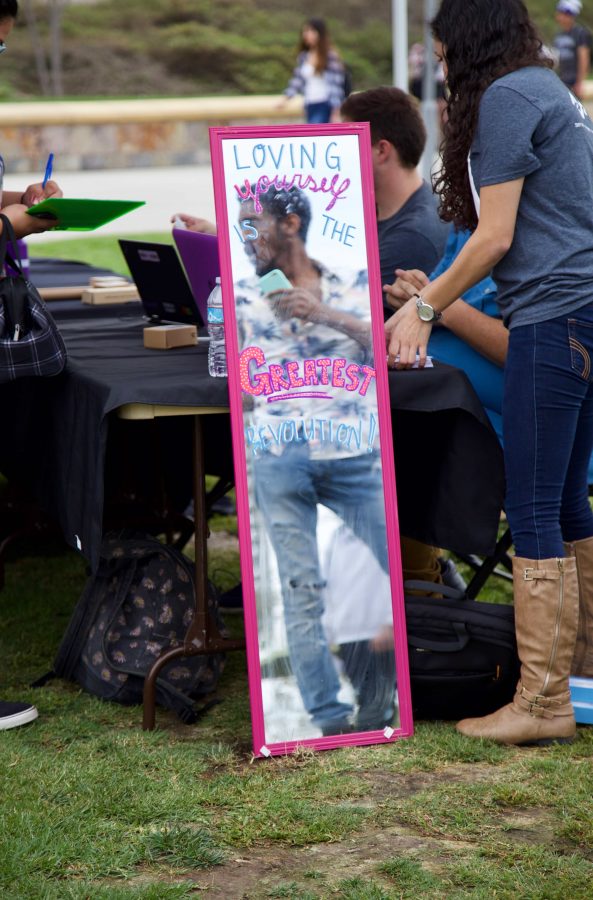 Students walked the runway to show pride in themselves during a Love Your Body Event at U-hour on Oct. 27 in USU plaza.
The Gender Equity Center hosted an event held on USU plaza with the Student Health and Counseling Services as co-sponsors.
The main goal of the event is to raise awareness on campus about how the media affects student's views on their bodies and gender identity.
"It's loving yourself in front of everyone … You're showing off that you love yourself," said Peer Coordinator for the Gender Equity Center Rye Boulter.
The runaway is a major factor of Love Your Body Day. Junior Alexis Anaya spoke of the value in having students catwalk on campus.,
"Students [can] walk the catwalk and strut their stuff and be proud of the body that they're in," said Anaya.

"We're trying to promote self-love, help students understand that each body type and each person is valuable in its own way and [they] shouldn't be comparing it to societies standards," said Anaya.
During the event. students gathered to learn about body positivity and body inclusion. Organizations like Alpha Omicron Phi and the Student Health and Counseling Services took part in the event where students received  a "passport" where they went to different tables that were setup to obtain more information and resources.
"We have to acknowledge these negative factors that we have in our society like the media that create this idea that there is one way to be," said Anaya.
According to Anaya, this event has been happening for almost three years and will be getting popular in the future.
"You don't have to look a certain a way to love yourself and think that you're beautiful because beauty doesn't have any shape or size," said Boulter.