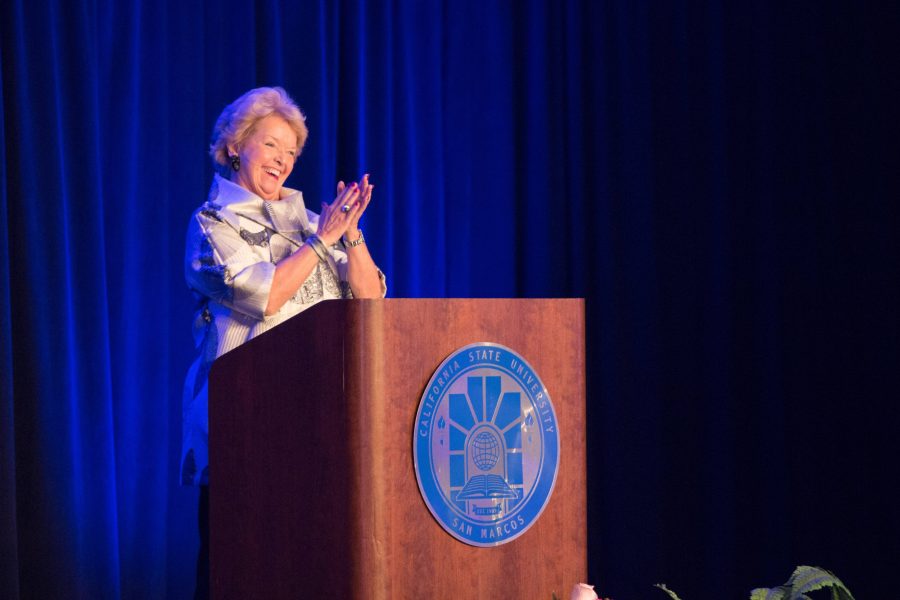 President Karen Haynes delivered her 13th annual report to address the growth, success and future of CSUSM to the community.
Her speech, "Imagine the Possibilities," discussed the growth of the university since its foundation 1989. As of 2017, CSUSM has more than 38,000 alumni. In 2016, 35 percent of the graduating class were from underrepresented backgrounds, while 55 percent were first-generation college students.
In her speech, Haynes said CSUSM is underfunded by the state. She said Gov. Jerry Brown's new 2017-18 budget proposal will include funding to cover current employee cost, but won't cover student success, enrollment increases, infrastructure repairs and improvements.
"Whatever our budget outlook, I know that we will continue to make strategic, thoughtful decisions that position us to seize opportunities connected to our core mission," said Haynes.
After mentioning individual student successes, she challenged the stereotype against college students. 80 percent of CSUSM students don't fit into the young, white, second generation, full-time student who graduates in four years stereotype.
"We are giving our students the real opportunity to imagine the possibilities and turn dreams into realities," said Haynes.
Faculty, staff, sponsors and community members gathered in Lot N on Feb. 2 at 8 a.m. to hear Haynes' speech.
Approximately 600 attendees came to the event. 13 event sponsors, as listed on the report to the community website, include North City, Tri-City Medical Center, KPBS and San Diego Business Journal.
Haynes concludes her speech by encouraging the community to debunk myths about college students and stand up for public higher education.
"Today's big, audacious dreams with intention and determination become tomorrow's progress."