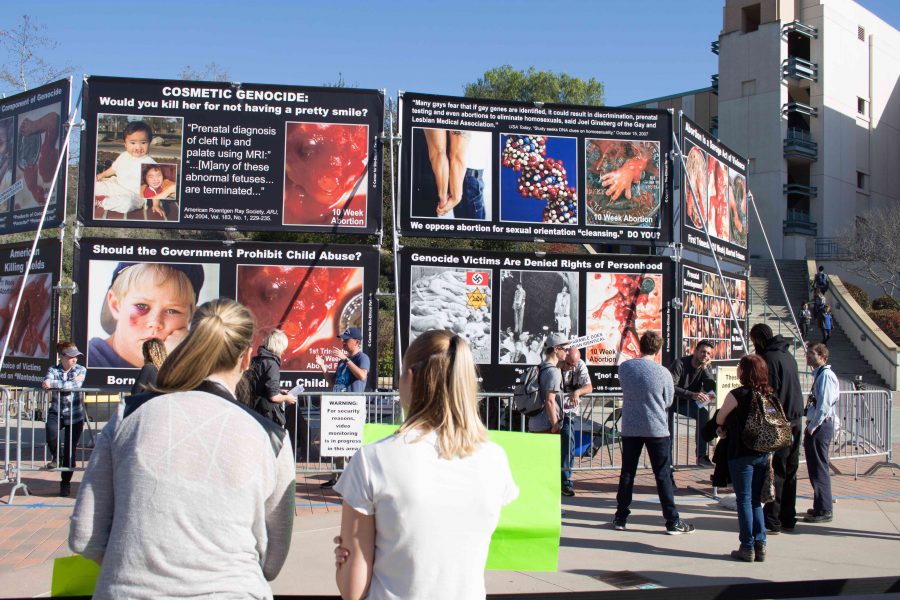 More than a dozen students peacefully protested the presence of an anti-abortion display by the Center for Bio-Ethical Reform (CBR) on Feb. 14 at the Kellogg Library Plaza.
A few of them also participated in a protest that took place in the fall semester when CBR came. Feminists United, a student organization organized the protest.
"We want people to know that abortion should always be made safe and legal regardless how you feel about it morally. We're here to represent pro-choice America," said protester Caroline Wright.
CBR, established in 1990 by a former lawyer and based in Lake Forest, CA, visits college campuses across the country to inform students the reality of abortion. According to CBR Representative Kevin Olivier, college-aged women are more likely to have an abortion than women of other ages.
"We're here to educate the students regarding abortion, to show that abortion is an act of violence that decapitates and dismembers a pre-born human being," said Olivier.
CBR representatives handed brochures to students explaining the comparison between abortions and genocides. Their presentation is called "Genocide Awareness Project."
"The pro-life argument is, since it's wrong to intentionally kill innocent human beings and abortion is the intentional killing of an innocent human being then abortion is wrong, we use science and philosophy to establish that, we don't bring religion into it," said junior Nathan Apodaca.
In contrast to the previous protest, there was not much interaction and arguing between either party.
"We're not engaging with them, we're not yelling or arguing because that's essentially what they want, we're standing here in solidarity, in silence and they can't do anything about that," said Wright.
"What they want is to get people screaming angry things so they can say people are trying to shut them up, that's not the point. They have a right to say anything they want," said graduate student, John Walsh.
In response to the protests against CBR Apodaca said, "It makes our side a little more reasonable when they're screaming 'My body, my choice' or holding up coat hangers."
Students were advised through email in advance of CBR's presence on campus. That prompted protesters to come out.
"Just like [CBR] we are within our first amendment right to [protest]. We wanted to offer another voice, another opinion, another way to consider the argument. We also feel like it's important to speak up for women because we feel like women are being specifically targeted," said junior Tina Givens.
History professor Dr. Katherine Hijar gave information to how to conduct rational arguments. "The problem with this exhibit is that it's misleading and there's no evidence that it's based on reliable information, it's designed to provoke an emotional response rather than a rational response."
"If they can show that a preborn child is not a human being then we will leave or if they can explain to us why it's morally acceptable to decapitate and dismember a pre-born child we will leave," said Olivier.
For more information on CBR, students can visit their website, www.AbortionNo.org