Get to know our Athletic Facilities Director, Scott Kirby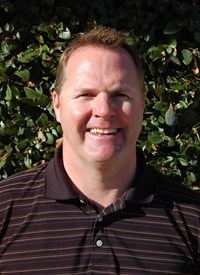 Michael Dentrea, Sports Reporter
December 8, 2017
Hang on for a minute...we're trying to find some more stories you might like.
How long have you been in the role of Athletic Facilities Director at CSUSM?
My actual title is Director of Facility Operations and Campus Recreation.  I report to the division of Student Affairs.  I have been on the Campus for nearly 15 years starting off at the Clarke Field House as the Assistant Director, and then moving to the USU as Senior Associate Director of Operations when it was built.  I have been the Director of Campus Recreation since July 2016.
Can you describe what you do or oversee?
I oversee the physical operations of the USU.  This includes supervision of our Facility Project Supervisor and Maintenance Mechanic.  In my role as Director of Campus Recreation, I supervise all aspects of our Campus Recreation Department, including budget, strategic planning, programming and hiring.  I have four direct reports as Coordinator of REC Life, Team Sports Coordinator, Outdoor Adventure Coordinator and Fitness Coordinator.
Are there current plans for more structures in the near future?
As far as structures in the future of the campus, that would be a question for our Planning Design and Construction group on campus.  Although, as the Director of Campus Recreation, I would love to see any new facilities that would increase Campus Recreation's ability to serve our campus' wellness and recreational needs.
What is the best advice you received?
"The devil is in the details." Remember to look into all aspects of a situation.
What advice would you give someone coming into your position?
Be patient, listen and don't act until you have all the facts, information and data to make a responsible decision or choice.
Degrees? Where did you go to school?
I have my B.S. from Rocky Mountain College in Exercise Science with Minors in Finance and Business Administration.  I have my MA in Management from the University of Redlands.