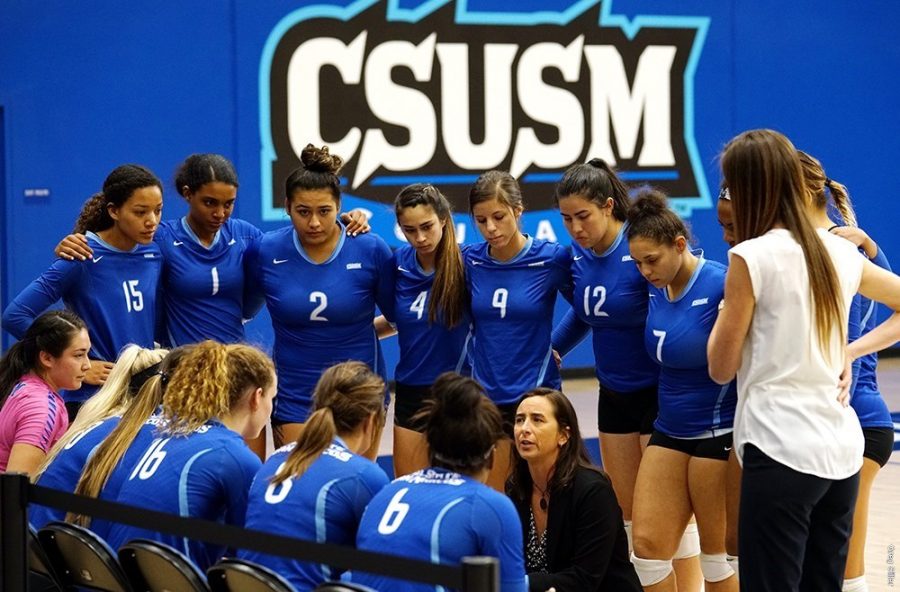 Courtesy of CSUSM Athletics
The Cougars opened their season with a bang as they won their first five matches posting an impressive 5-0 start to the season.
Coming into their most recent match against the UCSD Tritons, the Cougars had amounted a Conference record of 8-5 and an overall record of (1487).
This Friday at 5 p.m. in the Sports Center, the Cougars come back and look to defend home court as they have done so well thus far. Coming into their match against Cal State Dominguez Hills, the Cougars have taken the notion of home court advantage to the extreme.
At the Sports Center, the Cougars have posted a record of 9-1. It's also worth noting, that their only loss at home this season was handed to them by none other than the No.1 ranked (conference) Cal State San Bernardino. The Cougars have already taken the first matchup against the Toros this season.
Some standout players for the Cougars this season include, Maddy Newcombe, Aleese Wheaton and Grecia Cordero-Barr.

Newcombe leads the team in Aces (32) and blocks (66) making an immense impact and providing a unique presence for the Cougars. Wheaton leads the team in assists (464) and is second in digs (156). The next closest player on the team to Wheaton in assists is Madison Turner with (238) assists. Lastly, Cordero-Barr has taken on the persona of a defensive specialist leading the team with (339) digs.
Come out this Friday (Nov.8) and support your very own CSUSM Cougars as they get ready to take down the Toros in a home match at 5 p.m. in the Sports Center as they aim for their 10th win. You don't want to miss it!