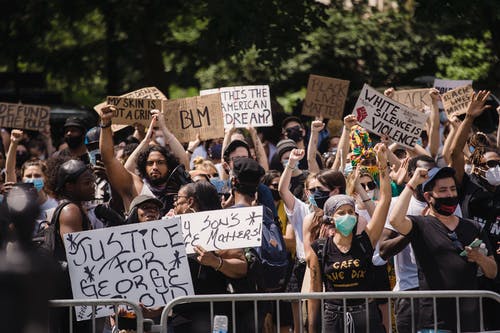 Photo by Life Matters on Pexels
Starting in the 2023-2024 academic school year, all CSU freshmen will be required to take an ethnic studies course in order to graduate. 
Assembly Bill 1460, signed by Governor Gavin Newsom, will require students to take one three-unit ethnic studies course with a focus on African Americans, Asian Americans, Native Americans or Latinx Americans. 
The California Faculty Association (CFA), a union of CSU faculty, actively advocated AB 1460. Black Lives Matter protests and other calls to dismantle systemic racism helped gain traction for the bill, and BLM partnered with the CFA to support the bill.  
Dr. Darel Engen, President of the San Marcos CFA Chapter and Associate Vice President of Chapter Presidents statewide, expressed his support for the bill by pointing out the current climate in the country, tense with racial divisions, inequity and a long history of racism. 
"Some people don't understand history, and it leads to ignorance and this idea that there is no need to consider race. The lack of understanding when it comes to systemic racism perpetuates inequality, division and unconscious as well as conscious attempts to deny certain groups of their rights," said Engen, who is also a history professor.

Ethnic studies courses examine institutions, social values and history through a lens focusing on the role ethnicity plays.
Dr. Sharon Elise, Associate Vice President of Racial and Social Justice for CFA statewide and a member of the San Marcos CFA Chapter Executive Board, explained that ethnic studies explores the cultural contributions, perspectives and histories of four major ethnicities in the United States, particularly focusing on their relationships with the United States government and oppression. 
"CFA is dedicated to anti-racism and social justice work. The majority of CSU students are people of color, and a curriculum laced with white supremacy won't serve these students. 7 of 10 people in the world are not white. We need to end the dominant norm that normalizes white power and fails to acknowledge what is best for students of color," said Elise.
New professors will need to be hired at CSUSM to fulfill this requirement. 
"The hiring of new faculty of color is necessary even without this new requirement. Our student body is diverse, and faculty should be too," said Engen. 
In addition to hiring more diverse faculty, Elise suggested that ethnic studies should be considered a foundational discipline, like women's studies was when the university was first established by its founding faculty.
"When primarily white faculty are in charge they are unfamiliar with culture and experience, and often do not deem it as valuable," said Elise.
Prior to the bill passing in August, the university system proposed a social justice and diversity graduation requirement that would have included social justice courses that explore the history and culture of a range of communities that experience oppression, such as the LGBTQ+ community, but student would still be able to graduate without a course focused on the perspectives and experiences of people of color in the United States.
However, the CSU proposal was opposed by CFA, because it would dilute the spirit of ethnic studies. The CFA did not want a requirement that would allow students to graduate without taking a course that includes the stories and lived experiences of racialized people of color.
"The focus on the four groups in the United States is central to ethnic studies, and other curriculum proposals wouldn't focus on them as much," said Engen. 
Course curriculum for ethnic studies is decided by the ethnic studies council. The council is expected to collaborate with the chancellor to determine learning objectives, and the faculty would be free to develop their own curriculum centered around those objectives. 
The CFA is proud this bill has passed. Engen hopes that with California taking the lead, a required education in ethnic studies will help to foster a more equitable society. 
Elise pointed out that the CSUs are sometimes referred to as the "people's university" because they represent the majority of Americans. "I love that the majority of students are people of color and working-class. We want to work with and support them!" she said.