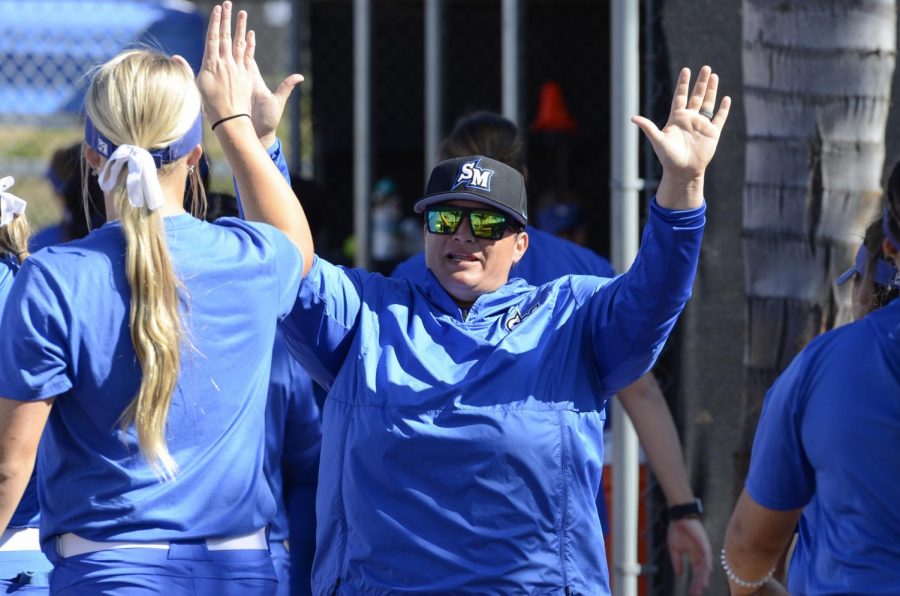 Photo courtesy of the Office of Athletics
Stefanie Ewing has been a coach for the CSUSM softball team for three years. She discusses her experience coaching virtually this academic year.
What does a typical day of virtual coaching look like? 
A typical day for me will be individual player meetings throughout the week and assorted department meetings. For me, I have head coaches' meetings, CRS [Care, Resource and Support] meetings and anything that may come up. The majority of my time is spent with the players on my team and what I can do for them. Asking how they are, how are they doing mentally, how is your family, how's school, do you need any assistance with anything, and keeping everyone connected. Recruiting has changed. It's all virtual, so there's no me attending an event. It's someone sending a video of games and watching through video. 
How often do you meet with your team through Zoom? 
Full team, we meet twice a week. One of those meetings is concentrated on the academic side of things, for people to share what might be going on in their classes, if they're having a technology issue, need a tutor or anything like that. The other one is to connect everyone, catch up and see how people are doing. This semester, those meetings will shift more into team culture, leadership and making sure people have a good space. Whatever they are going through, players know they have teammates going through the same experiences and realize they are not alone when missing your sport. I think it's important to get the team together to have that sense of family and support.

How do you keep athletes motivated and prepared to play in the fall 2021 semester? 
Players have been given strength and conditioning workouts to do the best they can. Many players tell me they went outside with their brother and sister to play catch or went to the park and hit. I encourage them to do what they can. The biggest fear, once we are allowed to come back, is injury. We have taken such a long break, so we want to make sure the players stay healthy, moving and keeping the spirits up for when we return to play. 
What have you learned through virtual coaching? 
The biggest thing that I've taken away and concentrated on is helping players. Asking if they need a reference to get a job, do they need help with a resume, asking how school is and getting closer with all my players. I want them to thrive in whatever they are going to do. It has been hard for the players not to play, but COVID-19 can't take away the relationships they have with their teammates. COVID-19 taught us that we have to appreciate everything, and I will look forward to the day we can go back out there on the field. I am proud of my team and what they have done. I know it's been hard throughout this, but we have a great group of girls, and they support each other.