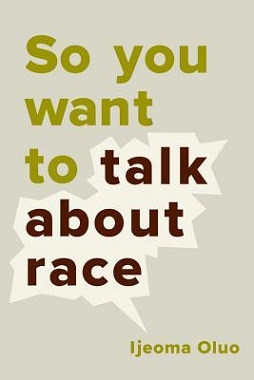 Photo from Wikipedia, property of Ijeoma Oluo and Seal Press
At the height of the George Floyd protests last summer, many people turned to a plethora of books by BIPOC authors. 
From You Can't Touch My Hair by Phoebe Robinson to So You Want to Talk About Race by Ijeoma Oluo, many people chose to read books about anti-racism as a means to understand the different layers to racism, prejudices and stereotypes. 
Even though I read these books as a source to understand my white-passing privilege, one thing quickly became clear: I will never understand what it's like to be anything but an Asian American woman.
Reading anti-racist books is a good source to understand things such as privilege, institutional racism and to get an idea of different BIPOC experiences. However, the simple act of reading a book as a way to stand up to racism with no other action is nothing more than watching a film like The Hate U Give and calling oneself an activist. 
Even though anti-racist books are useful in educating others and ourselves about topics not covered in the public education system, reading a book alone is not enough to be a form of  activism. 

Reading a book from a BIPOC author doesn't mean readers have a complete understanding of that person's experience. In fact, reading books as the only source of activism only generalizes what it's like to be a person who identifies as BIPOC. 
Along with reading anti-racist books, it's important to understand why one chooses to read an anti-racist book. Being okay with getting uncomfortable and having an open mind when reading anti-racist books is one of the only ways that makes anti-racist books effective. However, what many anti-racism books do is teach us what most of us already know: racism is bad. 
Attempting to "eradicate" racism by reading a book that provides common knowledge does nothing for those who experience racism. For many of these books, there are smaller details that teach us more about race such as institutionalized racism. 
At the end of the day, reading a book isn't enough as a source of activism. No matter how many books I read, I will never understand what it's like being anything but an Asian American woman, just like how I don't expect anyone who isn't an Asian American woman to understand what it's like being an Asian American woman.
I will never understand what it's like to give a talk to my kids about what to do when being pulled over, nor will I have to fear for my life when being pulled over by a cop. I will never understand what it's like to be worried about having hate crimes committed against me. 
The heaviness of these realities are ones that I won't have to experience as a white-passing woman. For those who don't have to worry about these situations either, reading a book isn't enough to help. 
Being an activist is more than attending a book club and assessing white privilege in hopes for a better world, nor is it activism when watching an act of racism or prejudice happen and hope that someone else will say something. 
What activism does do is strive to provide equity and inclusivity for all: BIPOC, LGBTQ+, disabled – everyone. 
Being an activist is actively trying to dismantle the systems that harm others through effective means of action. This can be seen in the form of protesting injustices, calling senators and representatives to make your voice heard, and calling out racism when you see it, not just being a bystander.