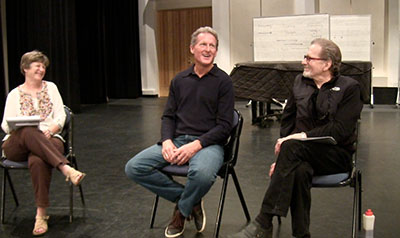 The Cougar Chronicle Staff
Sports and the arts may seem like very different subjects, but three Cal State San Marcos professors and coaches held a panel discussion March 27 where they discussed how the two disiciplines interconnect.
Organized by Dr. Merry Goldberg, chair of the Visual and Performing Arts Department, the 45-minute panel discussion for students in Learning Through the Arts covered how passion, discipline, fear, risk-taking and perserverence have impacted their lives and careers, both negatively and positively. Joining Goldberg on the panel in Arts 111 was CSUSM track and cross-country coach Steve Scott and advanced acting professor Robert Foxworth.
The three panelists have vast experience in different fields.  Goldberg is a professional saxophonist who toured internationally for 13 years before coming to Cal State San Marcos. She is also executive director of the university's Center Artes outreach program, which has dramatically improved grade-school reading scores with education through the arts. She recently received the CSU's Outstanding Faculty Award for Scholarship & Creative Activity, was a finalist for a James Irvine Foundation Leadership Award, and was recently named College Music Educator of the Year.
Scott is recognized as one of greatest mile runners in American history. He won a silver medal in the 1,500 meters at the IAAF World Championships in Athletics, he holds the U.S. indoor record for the 2,000 meters and held the U.S. outdoor mile record for 26 years.And he has coached the CSUSM women's team to three national championships, and the men's team to the No. 2 spot.
And Foxworth is an award-winning stage, television and film actor. Trained in classical theater, he has performed roles onstage for more than 40 years and is an associate artist at The Old Globe in San Diego. His television credits include a seven-year stint as the star of TV's "Falcon Crest" and he spent three years on "Six Feet Under." His film credits include "The Questar Tapes," "Syriana" and he has provided the voice of the autobot Ratchet for three "Transformers" films.
The Cougar Chronicle Channel was there to capture their thoughts in the accompanying video.