Los Hollywood takes off with newest self-titled EP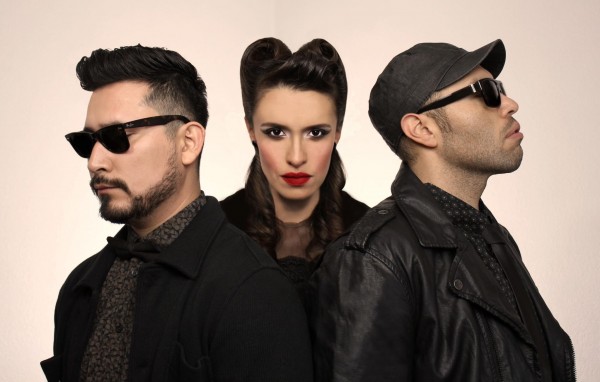 ---
Los Hollywood, a Spanish pop-rock band centered in San Diego, started making music in the mid-2000s, but with the release of their self-titled EP "Los Hollywood" in mid-August, the band comes back bigger than ever before.
Comprised of front woman Heidy Flores, drummer Gustavo Mojica and guitarist and composer Marcos Mondregon, Los Hollywood proves they are a force to be reckoned with in the musical world with their upbeat tempos and catchy melodies. I got the chance to sit down and talk to the band and ask them some questions about their life on tour, their creative process behind the album and how they're bringing a new, memorable sound to their listeners.
The EP includes five songs sung primarily in Spanglish. Grammy winning producer, Thom Russo, worked on "Los Hollywood" and is known for his previous work with artists such as Michael Jackson, Johnny Cash, Audioslave, etc.
They talked about the process of recording this EP.
"We started doing the pre-production via Skype and we had never done that before, so it was a little bit new for us. With Thom in LA and us in San Diego, we just had different schedules, so that's how we started it."
The various Skype sessions and few practices before heading to the recording studio did not set the group back, but rather allowed them to produce an amazing record.
Los Hollywood's sound is a bit different from the pop music that we tend to hear in our daily lives, which makes it all the more endearing. While they say that describing their sound in a few words is difficult, I asked the group how they created their signature sound.
"Between the three of us, we have different tastes. For example, I like grunge from the 90s–I'm a 90s kid. But Marcos and Heidy have different tastes in music, so it's pretty much whatever we listen to, whether it was made now or in the 70s, that inspires us," Gustavo said. This gives Los Hollywood their unique sound and the ability to take in vibes from different artists from various eras and put it towards a new, inventive sound.
Los Hollywood is currently gearing up for tour alongside "Aterciopelados" and have done countless other shows in previous years.
"The most exciting thing for us, is waking up to a new place and trying new food and playing for different crowds," said the group.
They also explained that although they spend a lot of time together, tour is really the time where they get to be a true unit and experience the amazing memories that tour provides them.
Don't miss the kickoff of their 2015 tour in San Diego at 7 p.m. on Oct. 1 at the House of Blues. You're in for a great show full of energy and amazing vocals that will have you singing and dancing along.