The man, the myth, the legend: Steve Scott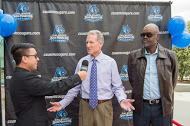 Rebecca Sykes, Sports Writer
April 27, 2016
---
When the mile is mentioned, one legend comes to mind. Steve Scott is considered one of the greatest mile runners in American history. To this day, he holds the world record for running the mile under four minutes, 136 times.
The renowned miler-turned-coach has battled and beat cancer in both 1994 and 2014, led the CSUSM women's cross country teams to three national championships from 2009 to 2001 and has mentored hundreds of athletes. This year, he looks to push his team into the national spotlight again.
Scott was not always a runner; he had a love for baseball when he attended high school in Upland, California in the 1970s. In the off season, he had a choice: either take first period physical education or pick another sport. The choices were football, water polo or cross country.  
"This is funny, it shows how lazy I was: My friend and I took up cross country to avoid first period physical education," Scott said.
After high school, Scott attended UC Irvine in 1974 as a collegiate runner and won the Division II 1500m event every year from 1975 to 1977. Soon after, Scott won the 1500m event at the Olympic trials in 1980. However, the U.S. team boycotted the Olympics that were set to take place in Moscow due to Russia's invasion of Afghanistan.
"We boycotted the Olympics because Russia invaded Afghanistan and now we are at war with Afghanistan. It is very ironic," Scott said.

Following the boycott, Scott set two American records in the mile with a time of 3:48.68 and the 1500m with 3:31.96. After his groundbreaking record for the mile in 1981, he set another personal best in the mile with 3:47.69 the following year, a record that stood for over 25 years.
Scott was set to compete in the 1984 Olympics in Los Angeles. However, he was not satisfied with his results, finishing 10th in the 1500m.
"I was so worked up because it was my first Olympics. It was in L.A., nearly 30 miles from my home and I just built it up into this huge thing that you can't do. You have to stay relaxed," Scott said.
Scott made the Olympics again in 1988 in Seoul, South Korea. This time, Scott chose to enjoy the whole experience rather than just focus his attention on the races he participated in. He traveled with the team, toured Disneyland in Japan, traded pins with fellow Olympic athletes and experienced the Olympics as a whole. Scott placed fifth for the 1500m event.
"I came away with the memories of the races, too, but I came away with a lot of other memories. I still didn't get the result I wanted, but it was much more of a fun experience," Scott said.
In 1999, 11 years after his last Olympics, Scott came to CSUSM when Bob Mangrum donated money to build Mangrum Track and asked if Scott knew anybody interested in a track & field head coaching position.
Scott took the opportunity right away and has loved coaching ever since.
"I didn't have to move. I got the opportunity to be head coach right away. It was like a storybook … [It] was a gift from God," Scott said.
Scott said that coaching is more rewarding than competing himself.
"It is not just coaching out here on the field, it's being a counselor to them, being a father, being an advisor," Scott said. "You're helping them grow during these difficult years, so to see them mature and graduate, to see them achieve what they wanted athletically, it is way more rewarding because you are giving. It is not all about me, it is all about them."
Scott has been honored 10 times as the Association of Independent Institutions' Cross Country Coach of the Year and three times as National Association of Intercollegiate Athletics Women's Cross Country Coach of the Year.
"I love how humble he is. When I think of Steve Scott, I don't think of the Olympian or that famous guy. I see a coach that just roots for me and is there to assist me," sophomore track and field runner, Elizabeth Buckle said.
Assistant Cross Country and Track and Field Coach, Paige Mills started working alongside Scott last year and knew right away they would be a great coaching fit.

"Steve truly puts everybody ahead of himself first, always," Mills said. "If an athlete can't make practice because they have a test coming up, he will come down to the track and be there for your workout."
"He's not going to have you go do it on your own. He's going to stand out there, even if that means he has to do his office admin work till 9 p.m.," Mills said.
Scott's perseverance and dedication to the sport of running has helped athletes at CSUSM meet their full potential. This year, he is looking forward to taking his track and field team to the California Collegiate Athletic Association (CCAA) Championships held at Cal State Los Angeles in May and said they are prepared to come out strong.
"I think that being in the CCAA has definitely inspired them and they have realized that if they want to be competitive… they have to up their game, which is exactly what they have done this season," Scott said.
As CSUSM approaches full acceptance into NCAA Division II, the athletes are blessed to have an Olympic great walk them through the journey. At the height of his running career he was ranked within the top four runners in the world.
Despite all the fame and accolades, Scott chooses to remain humble and relish in his role as coach, rather than in his past successes. He wouldn't have it any other way.
The Cougar Chronicle The independent student news site of California