Put the giving back in Thanksgiving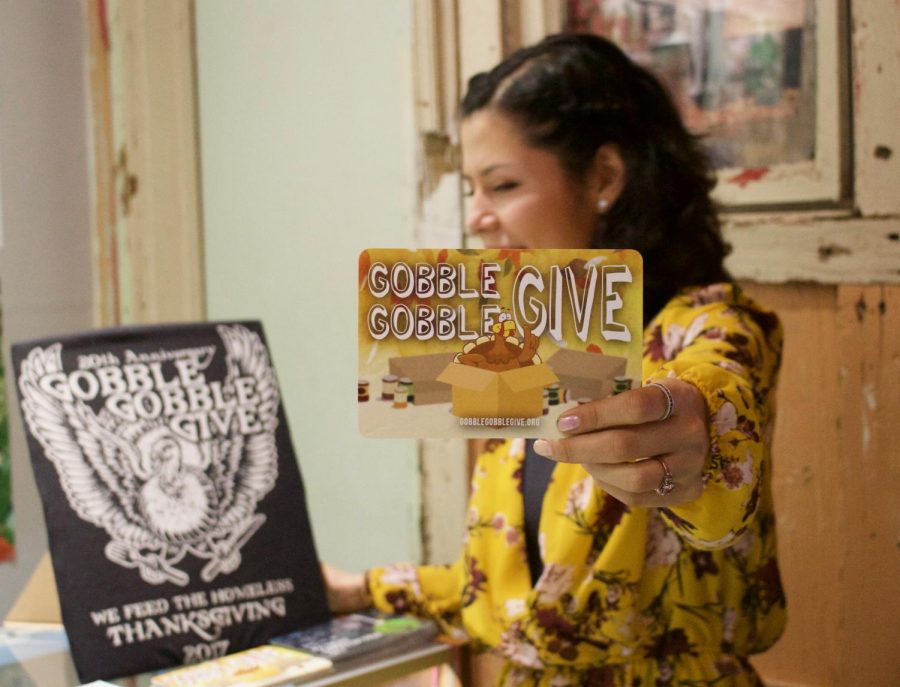 Fall breeze, falling leaves and the sweet smell of a prepared feast can only mean one thing: Thanksgiving, is near. While you are enjoying all the delightful qualities the holiday has to offer, do not lose sight of the spirit of the season, giving.
If you would like to be selfless this holiday season and give back to the community, join Gobble Gobble Give for their Potluck with a Purpose on Thanksgiving Day.
For the past 20 years, this non-profit organization has gathered volunteers to help spread the joy of giving and provide meals to the homeless.
According to their website, www.gobblegobblegive.org, in 2015 they fed more than 17,000 people.
Those who wish to partake in this wonderful opportunity can join the organization on Thanksgiving Day at 9:30 a.m. at Sugar Shack located on 2530 S. Santa Fe. Ave. in Vista, CA, 92084.
Volunteers will take part in preparing plates of warm meals to give out, as well as organizing and bagging donated goods and clothes.
They then will drive around town and deliver the boxes of food to homeless in the community. Last year the volunteers went from Escondido to Oceanside and Carlsbad and went as far as east San Diego.
For those who may already have plans on Thanksgiving Day, there are other ways of giving back. For example, individuals can make a donation online to their website. Another option is to sign up online at Ralph's or Amazon to help earn money for Gobble Gobble Give.
For Ralph's, all that is needed is to visit their website, www.ralphs.com, click on "No Account" and register. Sign into your account, click on "Community Rewards", hit enroll and enter "Gobble Gobble Give" or the numbers 82311 and enroll. All future purchases made at Ralph's can help the organization earn money.
For Amazon, log on to smile.amazon.com and enter Gobble Gobble Give in the search box and begin shopping. Amazon will donate 0.5% of your purchases to Gobble Gobble Give.
Additionally, individuals can make extra mashed potatoes or macaroni and drop it off at Sugar Shack on Thanksgiving Day.
Whether you are walking around town and handing out meals, helping earn funds online or donating warm food, you are making a difference in the community. It is the season of giving and what better way to celebrate it than by giving back to those who are less fortunate.
Donate a meal or volunteer with Gobble Gobble Give this Thanksgiving to help the less fortunate.