Meal Planning for the College Student Budget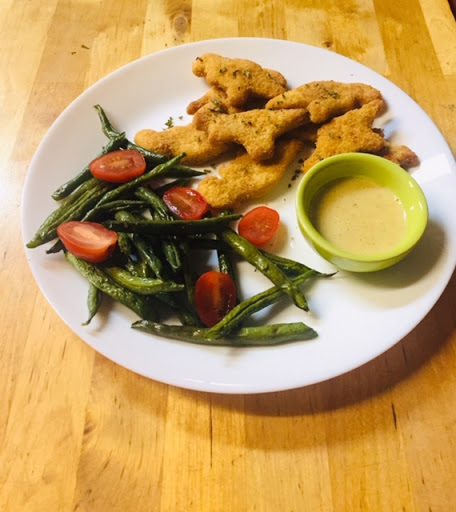 School is now back in session. If you're here on campus you're most likely renting textbooks and crashing courses. However, does this list include figuring out what to eat the next day? Balancing academics with family obligations, work and life in general consumes any person's day. So it's more convenient to throw last night's leftovers in a Tupperware and call it lunch, but what if you don't have any leftovers in the fridge? 
If you're a student or faculty member, you can opt to buy a meal on campus but the choices are limited and pricey for daily consumption. Assuming that you find yourself in this situation, then you should try meal planning. You don't need to have the skill level of a chef to put together something edible. All you need to do is to keep it simple. You can follow this recipe as a guideline when it comes to meal prepping in the future. All you need is a bag of your favorite oven-ready protein, green beans, cherry tomatoes, salt, pepper, cooking oil and a sheet pan. 
Preheat your oven to 350 degrees or to the suggested heat that your choice of oven-ready protein states on the packaging. Rinse your green beans and cherry tomatoes. Then trim the ends of the beans and cut your cherry tomatoes in half. Place your protein and green beans on a pan and make sure to pour enough oil on top to lightly coat the green beans. Then sprinkle a generous pinch of salt and pepper onto the green beans. Place the sheet pan into the oven and cook until the vegetables and protein are slightly golden brown. Serve them with the cherry tomatoes and then you have made yourself a simple and quick meal. This can be easily packed into a container and can be spaced throughout the week. This recipe does not require a lot of prep work and that's one thing to keep in mind when it comes to future meal planning. 
Keep it simple. Some readers will have worries when it comes to buying frozen foods and it's natural to be worried but these days grocery stores are stocked with oven-ready foods that are low in sodium and antibiotic free. In our example, we chose chicken tenders. They are already prepped and can easily be cooked in the oven. When meal prepping, it's best to be honest with what time you have. The last thing you may want to do when coming home is to spend hours in the kitchen. 
Choose foods that are in season. We chose green beans and cherry tomatoes to accompany the chicken tenders because they are both in season during the summer. When it comes to picking  produce, it's best to choose those that are in season. They will taste better and are usually cheaper at the grocery store because of their availability. If you're lost on what's in season then check out the seasonal produce guide that the USDA provides on their website: https://snaped.fns.usda.gov/seasonal-produce-guide