Cougars supplement team with young talent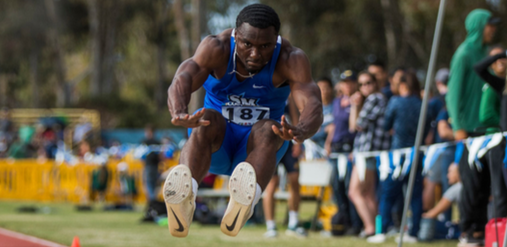 It's still early in their NCAA Division II lifetime but each year it seems CSUSM's teams gain more and more talent as they begin their 3rd full year as eligible members. This year, the trend continues.
Specifically, the Men's and Women's Track and Field teams have made some major moves this past off season.
Numbers have increased, allowing for much needed depth in nearly every event on both sides.
Beginning with the women's jump squad, Freshman Dymon Preyor out of Blue Valley High School in Stilwell, Kansas looks to be a dynamic addition with loads of potential.
Preyor, as a senior in high school registered a mark of 19 feet and six inches in the Long Jump. That mark alone would qualify her for the National Championships at the NCAA Division II level.
Additionally, Freshman Luz Mercado out of East Lake High School prepares to make her mark. Mercado competed in a myriad of events at East Lake, but, specifically, she ran the 800m, 1500m and 1600m with proven success. Mercado made her way into the top 5 in San Diego for the 1600m last year as a senior in high school.
On the men's side, freshmen Nader Ali and Austin Peterson mark two of the many new additions for the 2020 season.
Ali, out of Crawford High School, ran the 400m, 800m, 1600m, 3200m as well as both the 4x400m and the 4x800m in high school and looks to bring his versatility to CSUSM.
Ali found himself among the top three athletes in the 800m in San Diego during his senior campaign last year.
Leave a Comment