Kellogg Library offers a variety of online services for fall 2020
Although Kellogg Library is closed for all in-person services this semester, CSUSM students can still access vital library resources virtually. 
Kellogg Library currently offers services such as 24/7 live chatting with a librarian, virtual course reserves and access to millions of other articles, films, books and more. 
For general library questions, a CSUSM librarian can be reached by chat, email or phone Monday through Thursday 6 a.m. to 12 a.m., Friday and Saturday 9 a.m. to 5 p.m. and Sunday 10 a.m. to 12 a.m.
For research help, a CSUSM librarian is available to assist by chat Monday through Thursday from 8 a.m. to 9 p.m. and on Friday from 8 a.m. to 3 p.m. All other times, a non-CSUSM librarian will be available to assist with general research questions. 
Students can access the chat option by clicking the "Ask Us" button on the CSUSM University Library website. 

The library offers a variety of resources for students, but if a student finds that a desired item is not available, they can submit a request for that item. A "Request Online Access" button can be found below the chosen item title in the catalog, and students can specify whether or not they would prefer digital access or for the material to be mailed to their home. 
Char Booth, the Associate Dean of Library, urges CSUSM students to opt for online access. 
"Our priority is to get the item digitally, because the highest number of people would have access to it that way," said Booth.
Starting on Oct. 1, the library will be offering a contactless locker pickup system where students can request to pick up various materials on campus. 
Lockers have been installed on the second floor of the library entrance and User Services is working diligently on perfecting the pickup system, said Yvonne Meulemans, the Head of Teaching and Learning Department.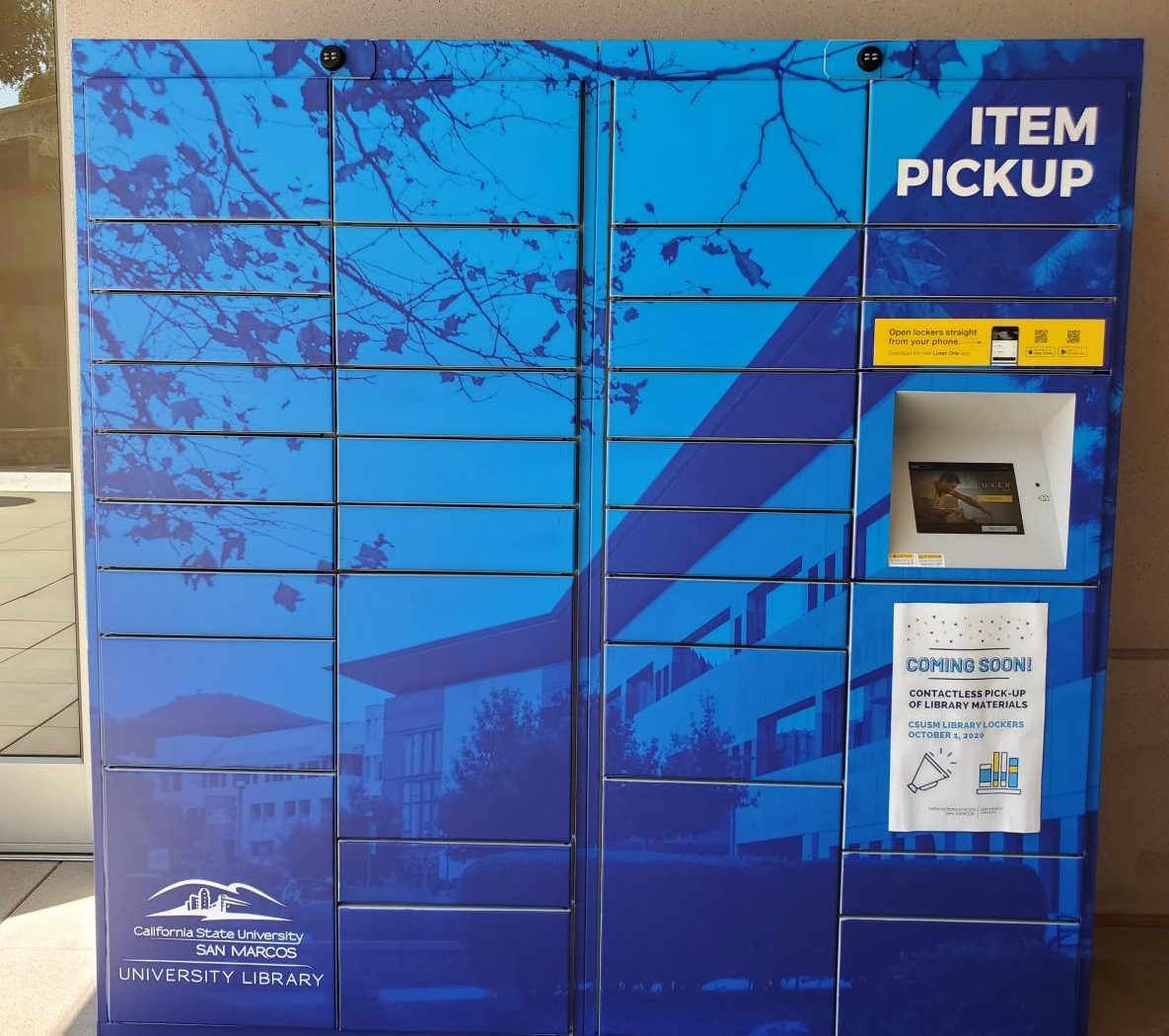 In addition to the anticipated campus feature, CSUSM has implemented a temporary socially distanced computer lab in the USU to equip students with high-speed wifi, computers, desks with power for laptop users and free printing on a first-come, first-serve basis Monday through Friday from 10 a.m. to 4 p.m. 
The IT Help Desk is also open to students seeking technology support Monday through Friday from 10 a.m. to 4 p.m. by appointment. 
Although the library aims to reduce costs of course readings for students by providing ample resources, the University Bookstore remains open Monday through Friday from 9 a.m. to 5 p.m. 
"Before you buy it from the bookstore, just check library reserves to see if we've got it in stock. All of it is digital," said Booth. 
Students who have physical items checked out can return them to the two blue book drops in Craven Circle, or at the drop box outside the third floor library entrance. 
Due dates have been extended and anyone who has InterLibrary Loan or CSU+ materials checked out can expect an email notice if materials need to be returned sooner. 
Kellogg Library hopes to welcome students back as soon as it is safe, but there is not yet an expected reopening date. The library is further awaiting guidance from the CSU system on what to anticipate for next semester.
For more information, check out biblio.csusm.edu/content/fall-library-virtual-hours-and-services.
The Cougar Chronicle: The independent student news site of California State University, San Marcos