Red Flag Campaign calls for the end of violence on college campuses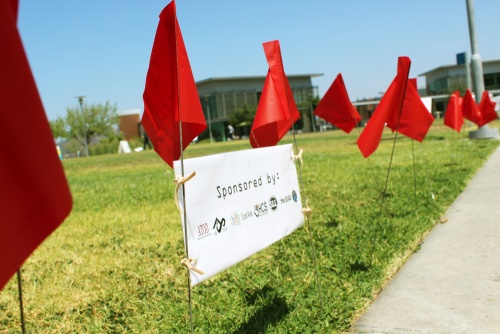 ---
[author title="About the Author" author_id="255″]
CSUSM organizations are currently hosting a campaign in order to end dating and sexual violence as well as to promote empowerment through peer intervention.
The Red Flag Campaign began on April 13 at CSUSM, in honor of Sexual Assault Awareness Month, and it advocates against sexual violence and dating violence on college campuses across the country. CSUSM is one of nearly 250 college campuses that are participating in this public awareness campaign.
Sponsored by Student Affairs Departments such as ATOD, ASI, Civility, the H.O.P.E. and Wellness Center, Student Health & Counseling Services, SLL and Residence Education, the Red Flag Campaign had its first official launch in October of 2007 on just 18 campuses.
According to an announcement sent out to Student Affairs at CSUSM, "This social marketing campaign was created to promote a 'bystander intervention' strategy, encouraging friends and other campus community members to 'say/do something' when they see warning signs ("red flags") for sexual/dating violence in their own or a friend's relationship."
Red flags have been placed and displayed all across the campus along with a series of eight posters that reflect themes such as coercion, emotional abuse, sexual assault, victim-blaming, excessive jealousy, isolation and stalking.
"[There] will be a series of eight posters displayed across campus that illustrate "red flags" that might be present in a relationship in which dating violence is happening," said the announcement.
These campaign posters represent a diverse amount of people in different kinds of relationships, whether that be heterosexual or homosexual. According to the Red Flag Campaign website, one in five college dating relationships are violent and abusive, and one in four women are the victims of rape or attempted rape. 42 percent of those victims didn't tell anyone about their assault and only five percent reported it to the police.
Surrounding this campaign, CSUSM organizations are hosting several events in the remaining weeks of April that they greatly encourage students to attend.
From 11 a.m. to 1 p.m. on April 22 in the USU Ballroom, Speaker Liat Wexler, from the Center for Community Solutions, will provide students with a workshop on Bystander Intervention in the LGBTIQ Communities. Students will have the opportunity to learn how to be an active bystander in difficult situations and also learn how intersectionality is an important concept when intervening.
Also, the annual "Take Back the Night" event will be at 5 p.m. on April 23 in the Library Plaza. This event is a worldwide effort to end all forms of sexual violence and it is recognized in over 30 countries. Take Back the Night events can include marches, vigils, rallies and activities that are centered around the issues of sexual violence and the need to take action against them.
Lastly, April 29 is National Denim Day and the CSUSM Student Affairs division is asking that students wear denim in order to support survivors of sexual violence. This event will also act as a way for students to educate others about these issues.
For more information about the Red Flag Campaign, please visit http://theredflagcampaign.org/, and follow the campus calendar for more information on these events.