Culinary Corner: New take on a food classic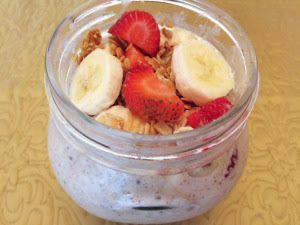 Lexy Perez, Assistant Entertainment Editor
September 29, 2015
If you look through the special recipe by the name of Pinterest, it's clear that the Mason Jar Craze has taken over.
While there are a myriad of recipes a Mason Jar can be utilized for, overnight oats have become a new go-to healthy meal worthy of trying.
A recipe that is both simple and appealing to try is a PB&J overnight oats.
The finished product is not only delicious, but both healthy and quick to make. For those who are avid healthy eaters and try to avoid making anything that takes too much time, this is perfect. Between work and school, time can be limited, so it's appealing to find a recipe that takes less than ten minutes to make. Aside from being easy to make, this overnight oats recipe offers a good supply of nutrition that is much needed during the stressful school year. Another benefit to this recipe is that it can easily be taken to work, school or indulged in as a late night snack.
PB & J Overnight Oats
Serving Size: 1 Mason Jar
1 cup of organic old fashioned oats
1 cup of almond milk (any milk of preference)
1 tablespoon of natural peanut butter (for a more natural flavor, grind your own peanuts)
1 tablespoon of chia seeds
1 teaspoon of cinnamon
1-2 teaspoon of agave nectar (depends on the desired sweetness)
1 sliced banana
1/2 cup of sliced strawberries
Granola (amount varies according to preference)
After leaving the oats in the refrigerator overnight, top it off with the fruit slices and granola. If you let the fruit sit overnight in the refrigerator, the bananas may brown.
Enjoy!