Oscar De La Hoya brings sense of Latin pride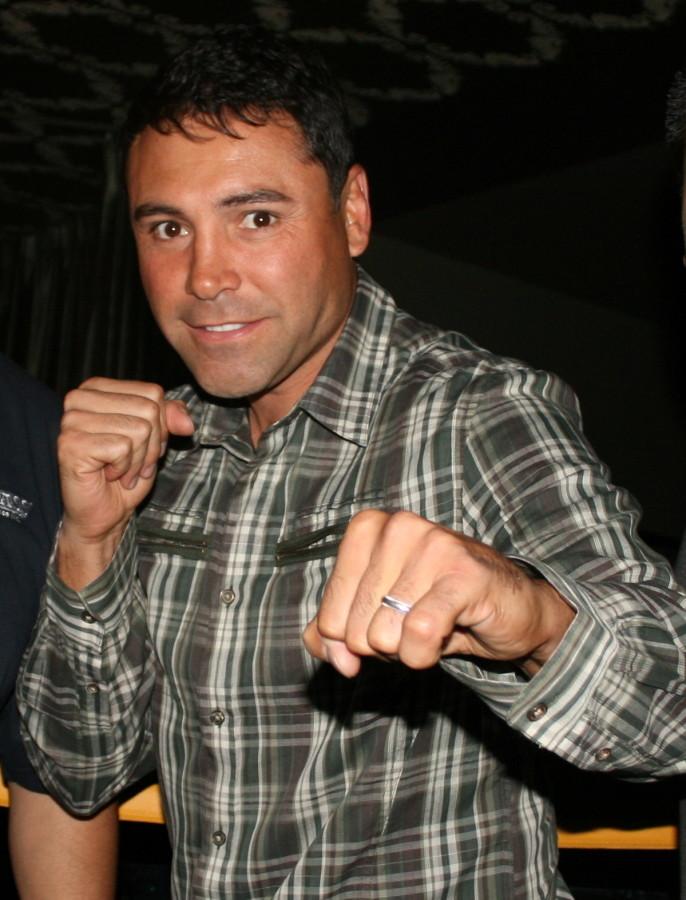 ---
The former Latino professional boxer, Oscar De La Hoya (42) also referred to as "The Golden Boy", is well-known for his unique abilities and achievements that he has accomplished throughout his career.
At the age of five, his father and brother were major influences towards the beginning of his boxing career in East LA. In October of 1990 Oscar's mother passed away due to cancer and it greatly affected him. His mother's passing caused De La Hoya to take a few months off from practicing his passion and in 1992 he had the opportunity to go to the Barcelona, Spain Olympics and won a gold medal which he dedicated to his mother.
As a professional, De La Hoya was the first young aged boxer to win six titles. In March of 1994 he won his first title in the lightweight class. He maintained himself undefeated in the International Box Federation; beating John Molina in less than five minutes and brought his Lightweight title 18-0. In 1996 De La Hoya also fought against a well-known, and experienced Latino Boxer Julio Cesar Chavez, beating him in the fourth round.
Defeating Pernell 'Sweet Pea" Whittaked allowed De La Hoya to move up to the 147 pound weight class in January of 1997. De La Hoya was declared the best fighter pound for pound in the world. In 1999 he lost his first fight against Felix Trinidad, and in 2000 lost his second fight against Shane Mosley. After the fight against Mosley, De La Hoya took some time off the ring and became a singer, releasing his album "Oscar" and his hit song "Ven a mi" was nominated for a Grammy award.
Continuing his boxing career in 2001, Oscar won his two first fights and in 2004 he lost the fight against Bernard Hopkins. Two years later he came back with a technical knockout against Ricardo Mayorga and de la Hoya became a promoter and funded his business : The Golden Boy Promotions. This business helps young boxers strive in boxing and promotes their fights.
In May of 2011, Oscar De La Hoya announced his drug and alcohol addiction, he then decided to go through rehabilitation. His wife Millie Corretjer was a great support and helped De La Hoya overcome his addiction. He was able to keep his business as a promoter after he was out from his rehabilitation.
Two Cal State San Marcos students, Resty Grey and Ramon Flores, shared their opinions in regards to De La Hoya's personal life and career.
"In the middle of his career and then the whole drug addiction hit him and he just kept going. He didn't quit boxing and just disappeared," said Flores. He kept going even after his fight he could have gone back, with all the money he had could've done whatever he wanted and go back to drugs but instead he decided to be a promoter and now is helping those young talents go through the rings. He was the superstar Hispanic that made it in America."
Resty Grey said that De La Hoya is an influential person.
"Oscar De La Hoya has always been a prominent figure in boxing, a big influence with other boxers," he said. "He actually manages one of my favorite boxers which is Manny Pacquiao… Growing up, my parents my dad especially always talked highly about Oscar De La Hoya having the next big fight, he's the person you want to see, he's the person you want to go watch. Even at the end of his career we were still watching him. He still had sell outs, he was still respected even though he lost to some of the big great fighters that we have now; Manny Pacquiao, Floyd Mayweather. He still highly respected, he is a great boxer, a great person."
De La Hoya, a now retired but very influential role model, has represented the pride Latinos have.
The Cougar Chronicle The independent student news site of California