CSUSM faculty, staff, students embrace diversity
Diversity kick-off event sets tone for Diversity Awareness Month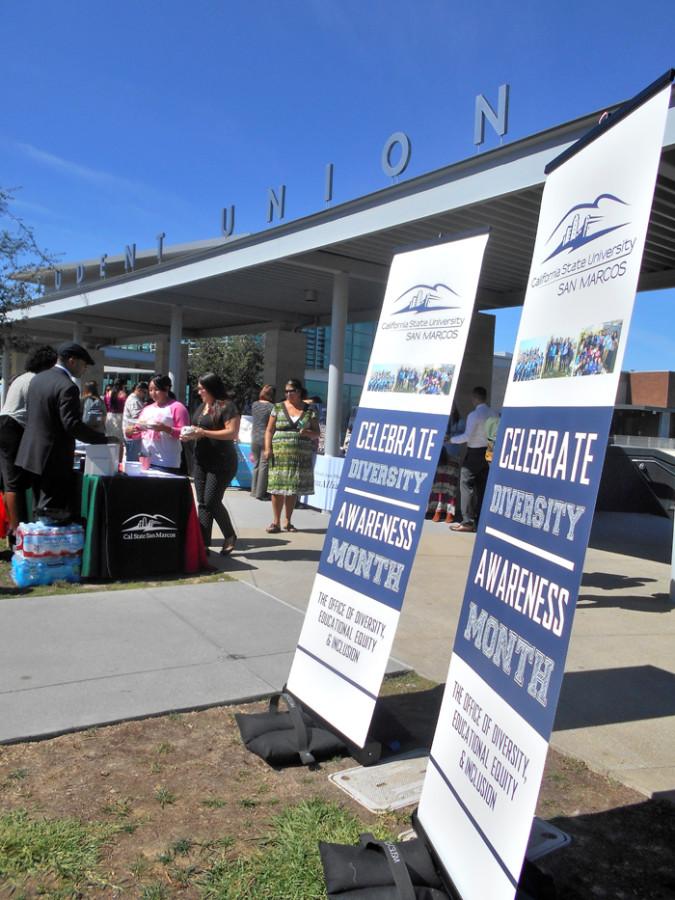 ---
To begin a month of celebration, the campus community launched Diversity Awareness Month with an event filled with food and fun.
The Office of Diversity, Educational Equity and Inclusion and the Office of University Ombuds held the Diversity Awareness Month Kick Off at the USU amphitheater on Oct. 7.
"This is a great place for students to get involved and understand diversity," Arturo Ocampo, Associate Vice President of the Office of Diversity, said.
There are many different organizations and programs that help support diversity across campus. Students were able to visit booths that allowed them to embrace the diverse communities on campus, hosted by groups such as Black Student Union, Kamalayan Alliance and Latino Association of Faculty and Staff (LAFS).
"One of our biggest goals is to promote Latino culture," said Cecilia Martinez, Secretary of LAFS.
LAFS offers a wide range of support to Latino faculty, staff and students by informing others of relevant issues on campus. LAFS also hosts several events that embrace the cultural traditions of Latinos.
Representatives of the Ethnic Studies program were also present at the Diversity Awareness Month Kick Off. The program offers a large selection of classes that allow students to gain knowledge about diversity on campus. While students can currently minor in Ethnic Studies, organizers of the program said that they hope to offer it as a major in the future.
"It's really important for any student who wants to be in the workforce to understand various cultures," said Dr. Jule Gómez de García, a faculty member in the Liberal Studies Department.
Members of Circle K International (CKI), the world's largest student-led collegiate service organization, were also present at the event. CKI allows students of all cultures to unite in order to help others and become more involved with their community.
"We promote service, leadership and fellowship," said organization member Jeremy Alcantara.
CKI holds several events to help raise money for those in need, such as their upcoming Masquerade Ball in November.
The Office of Diversity will host several events this month, so if you missed the kick off, it's not too late to get involved. The remainder of events will consist of workshops, presentations and highlights. For more information, visit www.csusm.edu/equity.