Luis "Louie" Farfan leaves it all on the field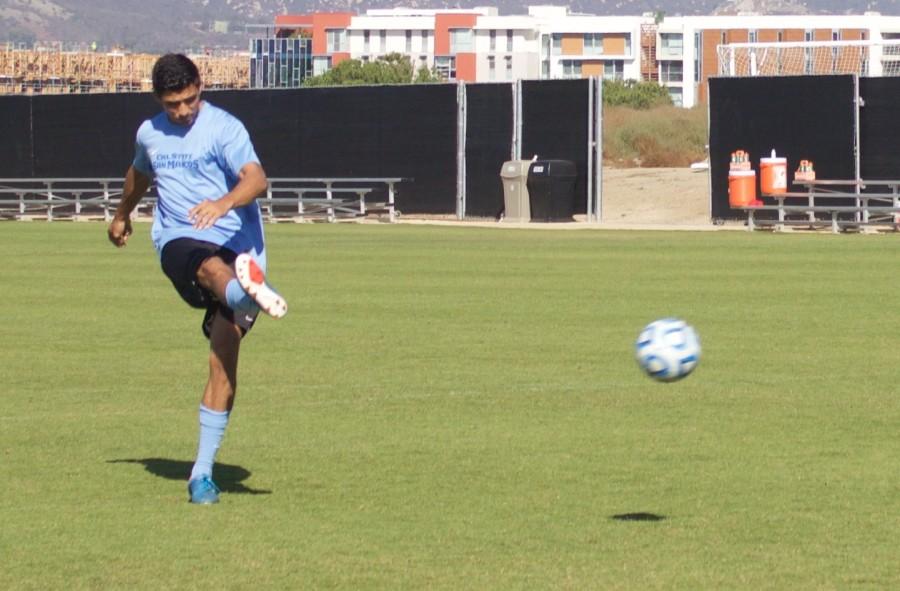 ---
Outstanding CSUSM soccer player, Luis "Louie" Farfan, has been named both a San Diego Hall of Champions Star and CSUSM Male Student-Athlete of the Month for September.
"I was coming off a good streak of goals and I can say I knew that I was playing really well so it was very good to be able to get that recognition," said Farfan.
Playing as a defensive midfielder for the men's soccer team, Farfan is dedicated, confident and hardworking. With his great vision, precise passes on the field and intense desire to score a goal, Farfan has created various plays and opportunities for himself and his teammates.
The encouragement Farfan receives from his supporters is what fuels his performance on the field.
"I love playing for the fans; I play for my family and of course my teammates and my coaches. I give most of the credit to my dad. He showed me and my brothers everything we know, so I say he is my inspiration when it comes to soccer," said Farfan.
Soccer is arguably one of the toughest sports to compete in. A player's extraordinary endurance paired with the high level of coordination with their lower extremities are characteristics that are not just handed to them. A work ethic must be fostered, and slacking is not welcomed.
"A soccer player can relate to working hard every day, it is all about the grind. If you are willing to put in the work you are going to get repaid for it," said Farfan.
In 2013, Farfan was named All-Association of Independent Institutions second team and scored 13 of his 21 shots.
Farfan has an overall record of five goals this season so far; four coming from conference play, which ranks him third in goals scored.
"I definitely want a couple of more goals and to come out and win the rest of our games," said Farfan, determined to finish off his season on a high note.
The Cougar Chronicle The independent student news site of California