Adam Shapiro steps down as CHABSS Dean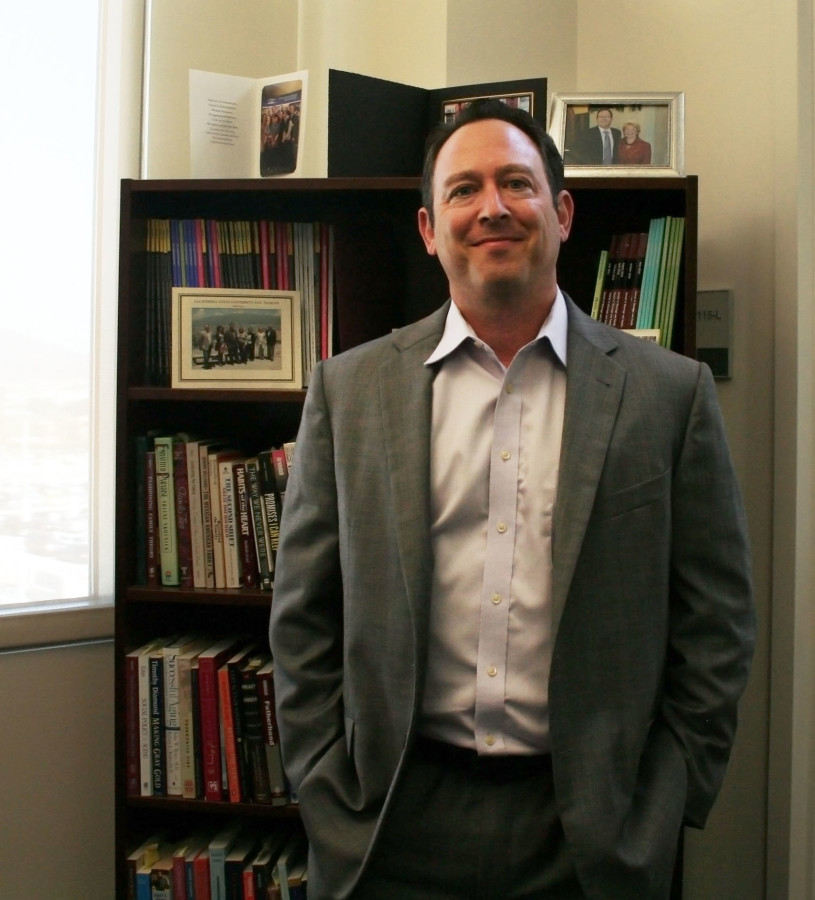 Katlin Sweeney, Editor-in-chief
October 29, 2015
---
Dr. Adam Shapiro's decision to step down as Dean of the College of Humanities, Arts, Behavioral and Social Sciences marks a pivotal change for both him and the college.
Shapiro graduated from the University of Florida with a B.A. in Sociology with Honors and from the University of Texas at Austin with a Ph.D. in Sociology. His doctoral research focused on how families and communities care for people as they age. Before becoming CHABSS Dean, he served as Professor of Sociology and Chair of the Department of Sociology and Anthropology at the University of North Florida from 2005-2011.
As the founding dean of CHABSS, Shapiro spent the last four and half years championing efforts rooted in student success and community engagement. He launched the Career Readiness Initiative, which he described as a program that focuses on changing the conversation about what students need in order to be successful as people and in their careers. He created the CHABSS Dean's Council in fall 2012, which brings together community members for the purpose of promoting involvement and partnerships with the college and CSUSM as a whole.
Shapiro built connections with alumni and regional partners in addition to seeking out fundraising opportunities to support CHABSS' rapid growth. He said creating an inclusive environment for staff and lecturer faculty has also been a priority during his time as dean.
"Adam truly cares about CHABSS and moved the college forward in an exciting direction with his great ideas and passion for learning and student success," Gina Jones, Arts and Lectures Coordinator for CHABSS, said.
Shapiro has advocated for expanding curricular offerings to students. Four new majors have been launched during his time as dean: the Criminology & Justice program at the Temecula campus, Music, Environmental Studies and Child & Adolescent Development.
Shapiro said that it is the work that faculty do that positively influenced his time as dean.
"When I review evaluation files for each faculty member, I am absolutely enamored with the work they do," he said. "I hope that I can be as good as some of my colleagues are in CHABSS. They have set a very high bar and I certainly hope that I can come close to that standard as a faculty member myself in the future."
Shapiro said that the success of CHABSS as a college has been a team effort that relies on countless people on a daily basis.
"Our college is really committed to student success," he said. "My fellow deans and I work together and collaborate more than any other campus I know. I have been very fortunate to work closely with faculty, staff, community members and other administrators. But the people that I lean on heavily on a daily basis are my Dean's Office staff. They are basically my immediate family who are incredible people both personally and professionally. It is going to be really hard not seeing them everyday."
Ria Custodio, Communications Specialist in CHABSS, said that Shapiro has been a motivating force in her time at CSUSM.
"Dr. Shapiro has helped lay a foundation of success for me to be able to communicate to the CHABSS students, faculty, staff and greater community," she said. "[He] has encouraged me to build a community through media engagements and social media. I look forward to continuing collaborative communications in line with the Strategic Goals of CHABSS."
Shapiro said that he hopes members of the campus and community will remember his time as dean for two main reasons.
"The thing I really wanted to do as dean was have our faculty and staff feel that CHABSS has a place in the college and a distinct identity of who we are. For students, we have hopefully created more opportunities for them in and out of the classroom. I want them to be successful in whatever path they take."
The Cougar Chronicle The independent student news site of California