Alpha Kappa Psi helps students strive for professionalism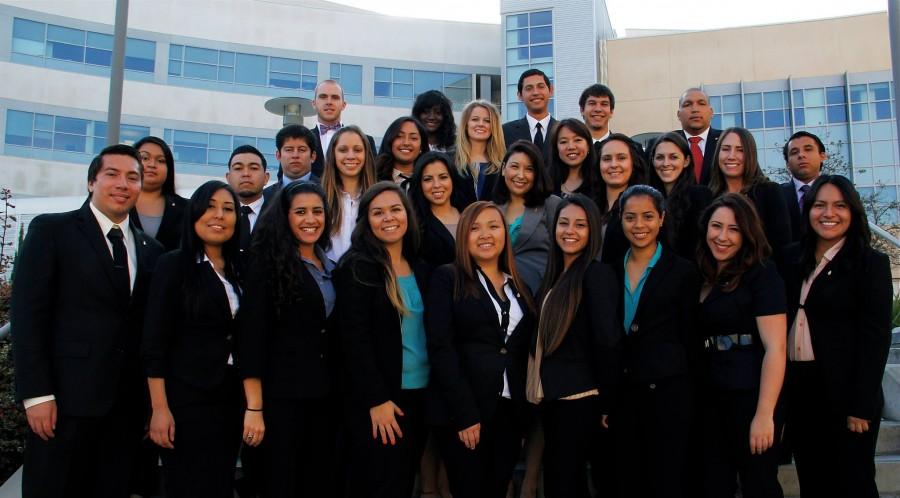 The professional world after college can be intimidating, but Alpha Kappa Psi's purpose is to give students these skill sets in order to be successful.
Founded in 1904, Alpha Kappa Psi has over 200 chapters and 240,000 members nationwide. The CSUSM chapter was established in 1999 and currently has 15 members.
Alpha Kappa Psi's goal, according to Vice President of Marketing, Loris Romero, is to teach members networking skills, prepare them for interviews and help them create resumes and cover letters.
"In a professional setting, students will know what to expect," said Romero. "The fraternity helps students develop preparatory skills for professional careers so they can overcome that intimidating environment and be well-disciplined."
Not only is the fraternity able to contribute to guiding students towards professionalism, they also do community service, such as working with Habitat for Humanity and beach clean-ups.
Rush week began Feb. 8 and ends Feb. 11. An Alumni Panel event will be held from 7 p.m. to 8:30 p.m. on Feb. 10 in Markstein Hall and a Laser Tag Fundraiser will occur from 5:30 p.m. to 7:30 p.m. on Feb. 11 at Invasion Laser Tag in San Marcos.
"As a co-ed fraternity, Alpha Kappa Psi is immensely diverse and open to all majors. They require members to have at least a 2.0 GPA and pay $163 per semester, the lowest cost among other Greek organizations," said Vice President of Membership, Michael Aquino.
The organization strives for its members to have a high level of professional development, as Aquino said, "They're not afraid, they're not scared" when it comes to handling the real world and with the help of other members and networks, they are able to overcome their fears.
The Cougar Chronicle The independent student news site of California