Director of PASO guides Latino students to success regardless of adversities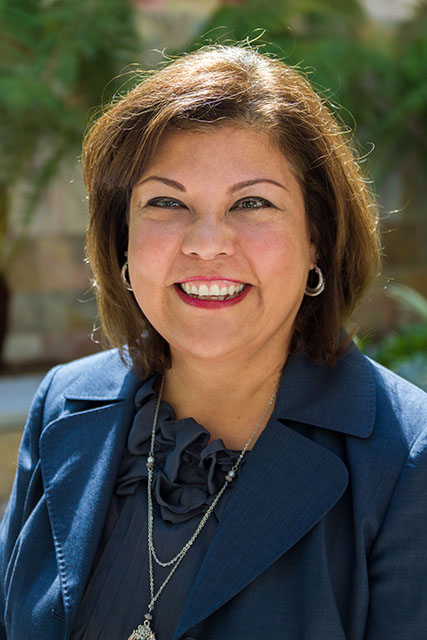 ---
Coming from an immigrant, working family, Minerva Gonzalez overcame her social and financial challenges by conquering cultural barriers on her path to academic success.
Gonzalez became the Director of Pathways to Academic Success and Opportunities (PASO) in October 2015.
At an early age, Gonzalez came from another country and struggled with her education due to being exposed to a different culture while simultaneously battling language barriers.  
"I came from Mexico and Spanish was my first language. I went to an all white school, so the challenges were there. Teachers couldn't communicate with me [and] I couldn't communicate with them. There was a level of isolation throughout my elementary school to the point where I basically gave up," said Gonzalez.
Gonzalez's view of school as a child changed when she came to the realization of her capability to succeed regardless of her not knowing English fluently. She later started improving her grades throughout her high school years, earning As and Bs.
Gonzalez was a double major in Chicano studies and Spanish at CSU Northridge, where she earned her bachelor's, and later received her master's degree in public administration.
Initially, her career choice was to be a bilingual teacher.
"I wanted to work in the [educational] field to be able to inspire other young Latinos that have language issues," she said.
Gonzalez did not become a teacher, but she is actively involved in the educational system, working in administration where she can interact with students.
After working at four different institutions, Gonzalez started working for CSUSM to become the Director of the College Assistance Migrant Program (CAMP) and later became the Director of PASO.
CAMP is a national program for children of migrant farm workers that helps first-year students from high school to college, giving them the foundation skills to be able to succeed in their first year.
PASO is a program that aids first-generation, first-year Latinos who are not served by other specialized programs such as CAMP, the Educational Opportunity Program or Student Support Services.
Growing up, Gonzalez did not have an eye set for college and she didn't know the college process until a teacher guided her through it.
"The challenges that I experienced—I didn't want children to go through what I went through," she said.
Gonzalez served as the president of the Beca Foundation, president of the North County Latinas Association and president of the Statewide Financial Aid Administrators.
She also started the first North County Latino Leadership Institute, is a founding member of the Escondido Children's Museum and has been a speaker for the Soroptimist Club, where she received the award for Woman of the Year.
"I work in the community because it's about giving back to my community, the community that gave me the opportunity to have what I have now," said Gonzalez
One goal that Gonzalez is working towards is implementing student success and encouraging them to make efforts and make time for their education.
She said, "It's about motivating yourself, establishing your values and goals, learning early on that you can carve your own path in this world [and] you have the ability to do that. You don't need to depend on someone else to do it for you."
The Cougar Chronicle The independent student news site of California