Women's soccer club offers competitive fun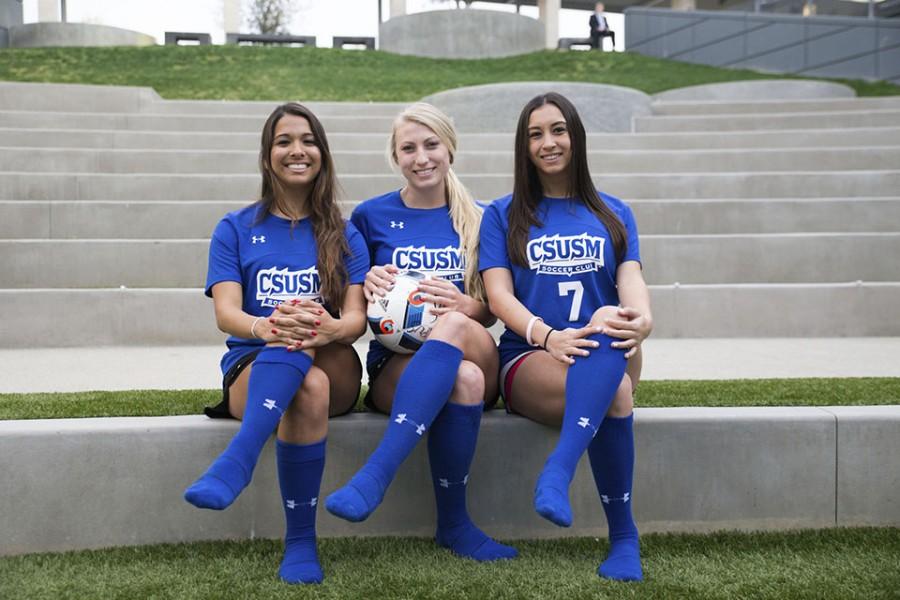 ---
In Spring 2014, two CSUSM students created the Women's Soccer Club to give "the opportunity to other students interested that still want to play" competitively "and be more involved on campus," said Club President Stephanie Ferro.
Ferro and a former CSUSM student, Shelby Ricks, "took interest in this, so [they] went through the process through Student Life and Leadership," Ferro said. "It was a lot of paperwork and deadlines we have to meet to get approved, but in spring 2014, we were finally able to call ourselves a club!"
In fall 2015, the club started with 22 women and ended the spring term with 16.
Participating in the club "…creates friendships, relieves stress, helps [us]  work as a team," said Ferro, who plays center midfielder. "It's fun and helps with leadership skills."
CSUSM Women's Soccer Club competes in the West Coast Soccer Association. "Home games are played at the Mangrum Field, or our away games [are] anywhere in the SoCal area," Ferro said."We play up to eight different schools. These include UCSD, Point Loma, Redlands, UCR, SDSU, San Bernardino, Claremont and Fullerton."
The club recorded four wins against two losses this season for a third place finish.
"We beat SDSU, Point Loma, UCR, Redlands, lost to UCSD and SDSU," said Ferro.
Coach Richard Kiser holds tryouts at the beginning of each semester. Club dues are $200 a semester. The Women's soccer club practices 6 p.m. to 8 p.m. on Mondays, Tuesdays and Wednesdays at Mangrum Field.
If you are interested in joining CSUSM Women's Soccer Club, send an email to [email protected] or follow csusm_wclubsoccer on Instagram.
The Cougar Chronicle The independent student news site of California