Hawaiian musician Makana breaks the Hawaiian stigma through music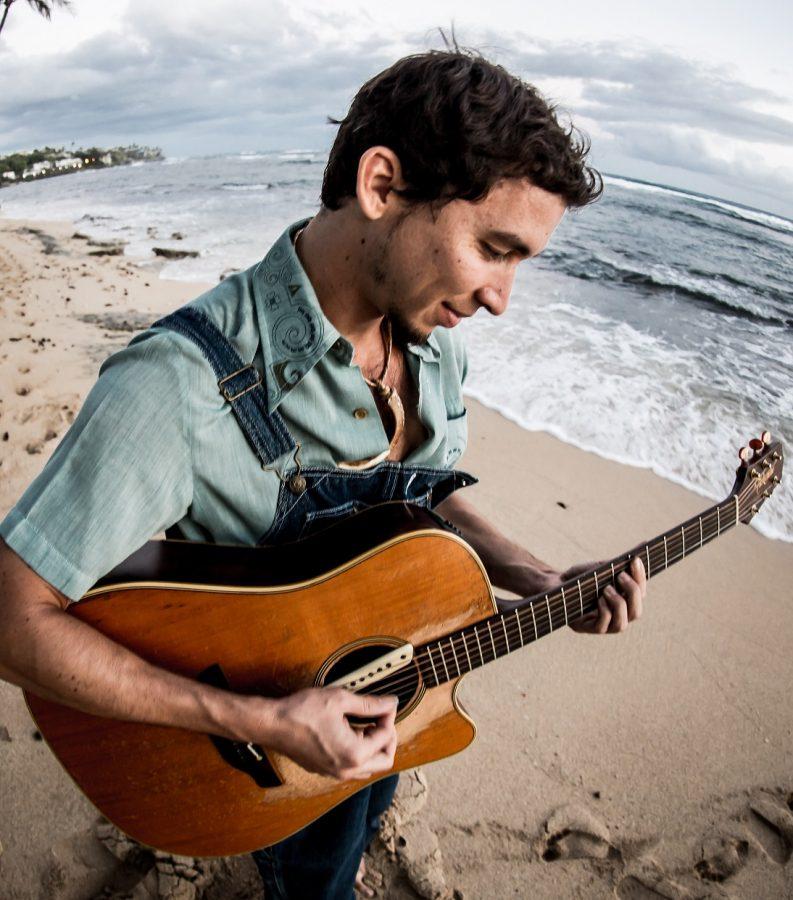 Madison Scrivano, A&E Staff Writer
April 13, 2016
---
When one thinks of Hawaii, one typically thinks of sand, surf, coconuts and sunburnt tourists. Yet, there is an entire Pacific Islander culture that lies beyond the surface level of tourism.
Among the eight islands, there lies talented residents with deep desires to share their voices with the world. Hawaiian singer­-songwriter Makana is an one of those musicians, using his musical gift to advocate change and relay the message of the Hawaiian culture to his listeners.
Born and raised in Oahu, Hawaii, Makana says that his roots stem deeply from within the unique people and culture of Hawaii.
"A huge part of my music lies within the Hawaiian culture. A lot can be learned from the people of these islands and their values are just so different," said Makana, "The Hawaiian peoples' values aren't competitive; they are very community and nature­oriented."
Makana began his musical journey at the young age of seven and has continued to grow and progress throughout the years. At age nine, he learned to play ukulele. Two years later, he began learning the beautiful and ancient Hawaiian art of slack key. By the age of 14 he began performing his talents professionally by playing for the public five nights a week.
"My major influences started when I was a young kid," said Makana, "I was really blessed to have learned from some of the masters of the Hawaiian guitar style called slack key. It has given me a unique career because a lot of people don't know how to play this style. You slack the keys and it makes beautiful tunings and in those tunings you play in a way that sounds like three guitars. It sounds symphonic."
Makana's main goal is to use his artistic abilities to express and celebrate the allure of tradition, while in turn delving into new significant perspectives, sounds and themes.
Within his music, he often honors Hawaiian music legends and poetic rock idols of the 60s. He finds importance in paying homage to elders who carry cultural wisdom passed down through the generations.
"I play a mix of original pieces and Hawaiian music when I perform. A lot of what I do is telling people's stories … Different types of people from all over come and listen to my music and I feel as though that it calms them," said Makana, "I don't listen to or think of music in genres. I think of it based off of emotions and I want people to feel like they can connect with that."
Aside from bringing the beauty of the Hawaiian culture to life through his music, Makana is also known for being a political activist. He wrote the 2011 anthem "We Are The Many" for the Occupy Wallstreet movement and performed it for an APEC World Leaders Dinner hosted by President Obama. He also recently released "Fire is Ours," which he performed at a Bernie Sanders rally.
"I try to bring issues to light that I believe affect people's lives … You have to participate if you want to see a change. I'm a really big supporter of voting and I want young people to participate in their destiny. We all have the power," said Makana.
Having already been featured on three Grammy-­nominated albums, including the soundtrack for the Academy Award­-winning film, "The Descendants," and sharing stages with Jack Johnson, Jason Mraz, Elvis Costello and Carlos Santana, Makana is a successful artist who strives to share his talent and voice with others.
To learn more about his music and activism, visit www.makanamusic.com.
The Cougar Chronicle The independent student news site of California