Coach Pugh retires, leaves legacy with his athletes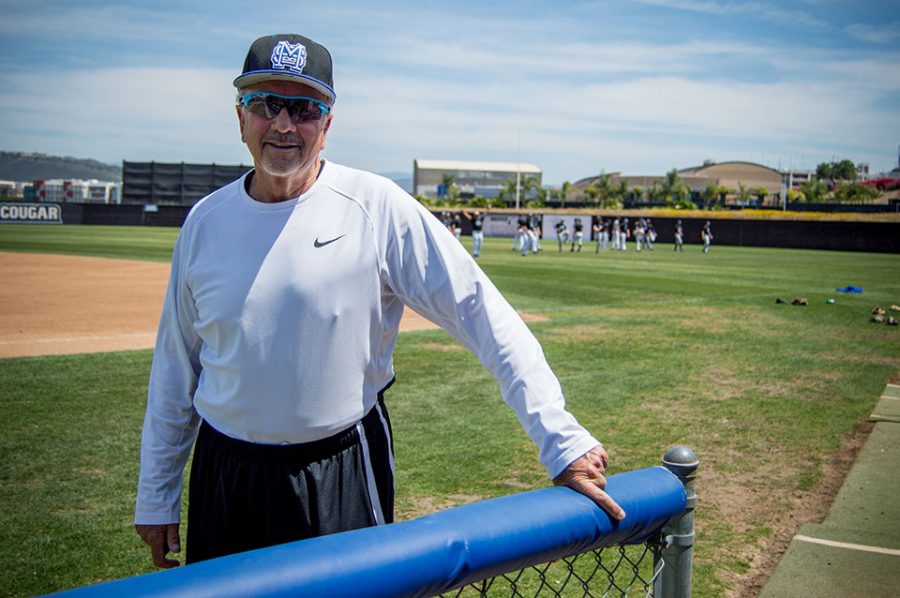 ---
The legacy of Head Baseball Coach Dennis Pugh will remain long after he coaches his last game on May 8. Pugh has helped young men mature, find a love for teamwork and share a passion for America's greatest pastime.
"He's going to be remembered as the face of Cal State San Marcos Baseball," senior first baseman Brandon Bentson said.
When Pugh first came to CSUSM 10 years ago and began the inaugural season in 2007, there were limited sports facilities. Recruiting players was difficult because students did not want to play baseball for a new, untested program.
"I was just looking for a new challenge and so that's why I came here," Pugh said.
The opening of the baseball field on Jan. 28, 2011 was a major milestone for players and coaches.
"Facilities on campus make the difference between if you're successful or just average," Pugh said.
Pugh has watched the program grow, led the team to its first NAIA Tournament and knows the program is going to be much stronger in five or ten years. Not only is he seeing the program grow and become much stronger, but is also watching his players grow as leaders.
"He does a really good job of influencing his students and his players to be a leader. That's why so many of his pupils [and] students that he's coached go on to coach," Assistant Baseball Coach Jared Suwyn said.
Suwyn's history with Pugh extends much farther than Suwyn's coaching start at CSUSM in 2015. Suwyn played for him at Mission Bay High School and then returned in college to play out his final year of eligibility under Pugh CSUSM.
Through athletics, students learn these valuable skills assets. Pugh is well aware that athletics helps players become more well-rounded and aware of the ups and downs of life. Pugh said he also hopes that his players learn the responsibilities of teamwork and leadership skills.
"You understand to play within a team concept and things aren't always gonna go your way. You have to accept that," Pugh said.
"One thing he told me a long time ago [was], 'You have to get everybody pulling on the same side of the rope.' He gets everybody on the right side of the rope pulling on the same side," Volunteer Assistant Coach Mark Wilson said.
Bentson, who has played for Pugh all of his four years at CSUSM, said that he and his teammates are really close in large part because of Pugh.
"He's really big into team chemistry," Bentson said.
Teaching his players' leadership skills is essential for them to know.
"There are so many students and athletes that would always call him coach. He has impacted a lot of inner-city kids. His legacy is going to be in the lives that he affected in a positive way. His legacy is in the students," Wilson said.
Through former players like Suwyn and Bentson, Pugh's legacy will live on.  
"His [coaching] style was branded into me… I always call kids out and let them know where they stand: 'This is what you need to do to get better, this is where you're at right now,'" said Suwyn.
Before Benston started playing for Pugh, his first impression of him was that he was going to be a "grumpy old man."
"When I walked [into the Clarke Field House], he was one of the nicest guys, he really cares and you don't get that in any other program. That's something I'm really going to miss about him and not having a coach like that anymore," said Bentson.
After announcing his retirement at the Student-Athlete Awards Banquet on April 11, Pugh looks forward to receiving a well-deserved break after 43 years of coaching.
"I don't have any definite plans right now on what I'm gonna do. I'm gonna play a lot more golf, but just gonna take some time for myself," Pugh said.
With all his hard work and dedication, Pugh passes down his knowledge and legacy to the next generation of CSUSM baseball players and coaches.
"I'll always be a Cougar in my mind," Pugh said.
The Cougar Chronicle The independent student news site of California