Cult classic 'Rocky Horror' comes to San Diego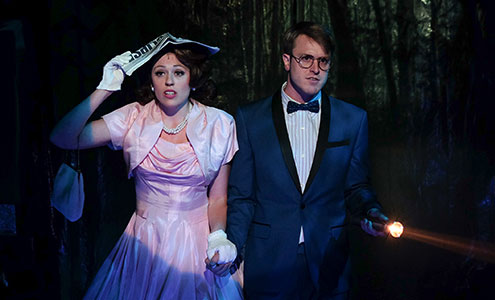 ---
The cult classic 1975 musical film, "The Rocky Horror Show," is taking the stage at the Cygnet Theatre in Old Town, San Diego. Although the play adaptation was scheduled to run from March 10 through May 1, popular demand has made its residency extend through May 7.  
The show follows the story of newly engaged couple Brad and Janet. While on the way to share their exciting news, they get stuck in a storm on an eerie night and stumble upon the bizarre mansion of transvestite scientist Dr. Frank-N-Furter. Innocent Janet and uptight Brad meet a string of zany characters during their wild night at the mansion through song and dance, including Dr. Frank's latest creation, Rocky.
The Cygnet Theatre's production of "The Rocky Horror Show" includes an insanely talented cast, including Cygnet co-founder Sean Murray (Frank 'N' Furter), Amy Perkins (Janet Weiss) and Danny Hansen (Rocky).
As a fan of "Rocky Horror" for quite some time, I was so excited when I heard that the stage adaptation had finally touched down in San Diego. As a fan, I can honestly say that the Cygnet production was mind-blowing. The sets, the witty interaction with the audience members and the actors' vocals were far beyond what I could have ever expected.
If you're looking for something to do on the weekends to get your mind off of final exams and schoolwork, leave your textbooks behind and head down to Old Town Cygnet Theatre. You can have a deliciously decadent dinner and spend two hours falling in love with the classic characters of "Rocky Horror."
Tickets are available at the door for $45 or $15 for the Student Rush discount.