The A Store offers platform for local authors, clothing vendors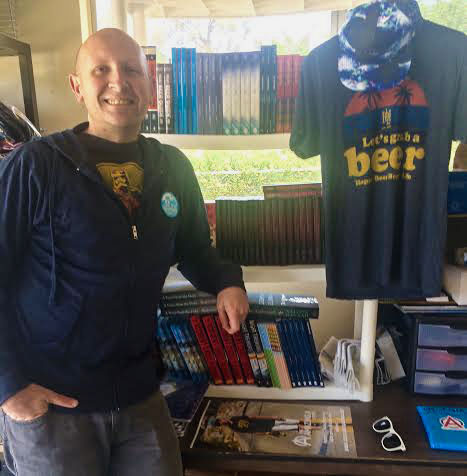 Lexy Perez, Arts & Entertainment Editor
May 11, 2016
---
When people have dreams, it can be hard to stay positive that those dreams will come true. Local entrepreneur Adam Lottes said that if anyone has a passion for what they do, they deserve a chance to have their hard work recognized.
Lottes created an online store, The A Store, where local San Diego authors and clothing vendors have the opportunity to sell their products to the community. What sets this store apart from other bookstores is the idea that it relies on promoting community talent, rather than more established authors and companies.
"I love books—I'm a writer myself," said Lottes. "I love San Diego. One thing that makes me more excited than anything else is to see people out there doing what they love to do."
Discovering talents through social media or in various street fairs, Lottes looks for one thing: passion.
"I talk to these San Diego authors to find out what they're all about and then I would find these local brands with shirts and hats. They're all cool people making their dreams come true. There's nothing greater out there than just seeing people do what they like and love to do," said Lottes.
Having always wanted to open a store and business of his own, Lottes created The A Store almost two years ago. Over time, he has continued to build it into something that accurately conveys his vision and dream.
The store features clothing vendors such as Hoppy Beer Hoppy Life (beer craft apparel), Living Dreams (beach apparel) and books from local authors that range from genres of fiction, non-fiction, young adult and sci­-fi/fantasy. In addition to the great selection of various products that can appeal to anyone, Lottes envisions featuring handmade jewelry from local crafters, scarves, comic books, throw pillows and candles.
Lottes doesn't aspire to achieve success on his own, but is driven by his ultimate goal to help others make their dreams come true.
"I want the A Store to be a place where authors can come and they have a voice. Their voices are getting heard and vendors' clothing is being shown. They can't get a chance at Nordstrom, they can't get a chance at Barnes and Noble. This is the place where they are going to get their chance," said Lottes.
With many events lined up already, including a pop­-up show, concert in the park and the jumpstart of a monthly book club for members to share their thoughts on a featured novel, the A Store is beginning to receive public notice.
"We are looking to… bring people who love what they do and let it grow from there. I think of it as if we let a tree grow on its own and look at what comes up. Did it take time to grow it? Yeah, absolutely. But anything worth doing takes time to do," he said.
You can browse featured local works and learn about upcoming A Store events on www.theamazingastore.com.