Recruiters help students interested in grad school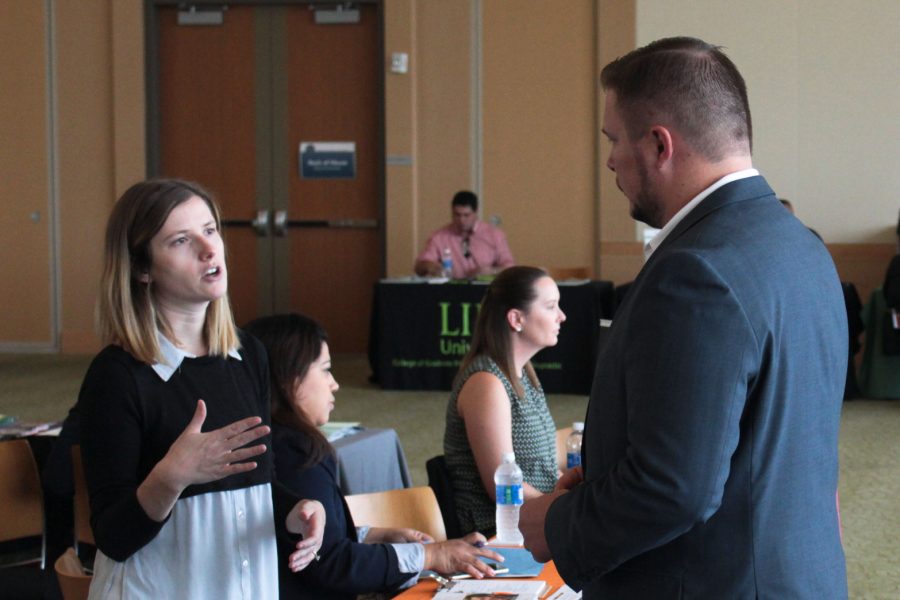 Stephany Mejia, Staff and Faculty Reporter
November 9, 2016
Graduate school representatives answered CSUSM students' questions to further their education during an event from 11 a.m. to 2 p.m. on Oct. 27, in the USU Ballroom.
The Career Center hosted the event for students to meet representatives and learn about different programs, application processes and financial aid. Students had an opportunity for face-to-face interaction with school representatives and to learn about their interest.
Over 50 recruiters attended, including representatives from Pepperdine University, San Diego State University, Princeton and St. George University.
The Recruiting and Events Coordinator for the Career Center, Brenda Dumas, attended the event. She stated that it's good for students to learn about their education  and it can be helpful for them to learn what they have to do before they can apply for graduate school.
Senior Jose Olvera noticed the signs leading to the USU Ballroom, announcing the grad fair and that they grabbed his attention. He also said he is highly interested in receiving his master's degree.
"I just learned that what I do right now, [Applied Behavior Analysis Therapy], I can get my masters paid for by working with children…For Masters and social work there's a grant," Olvera said.
Olvera stated that many of his questions were answered, specifically his questions about financial aid.
According to Dumas, if a student is interested in applying for graduate school, help can be found at the Career Center. They help with applications, writing essays and finding schools or programs as well as different opportunities for financial aid.
For further information about graduate school, visit the Career Center located in Craven Hall 1400. For further information about the TESL/TEFL program, visit Academic Hall 415.