CSUSM presents Ask the Right Question with violinist Amanda Wirtz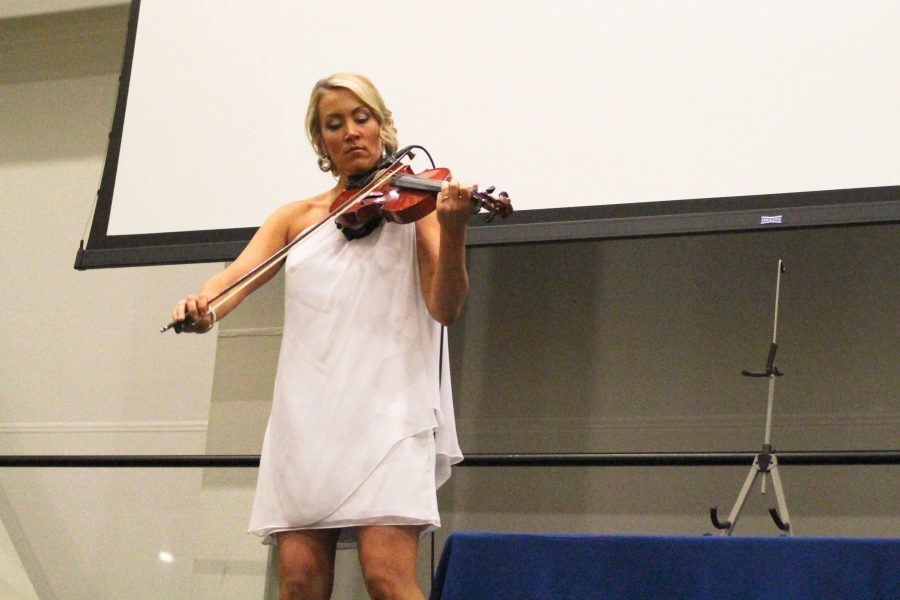 Antonio Pequeño IV, Staff Writer
November 11, 2016
Award-winning veteran Amanda Wirtz, presented her unique story of trials, tribulations and triumph to CSUSM students on Nov. 3 in the USU ballroom.
The event began with Wirtz giving a violin rendition of our National Anthem. Her various violin performances were interwoven in her presentation, creating a unique method of enhancing the audience's immersion into her story.
Wirtz's story started off by explaining her military endeavors. Joining the Navy at the age of 19, she spent six years as a cryptologist (someone who deciphers codes). Additionally, she supported military, counter-narcotics and search-and-rescue operations in Florida, Spain Canada and Washington D.C..
Everything fell into place for Wirtz until tragedy struck. She had been diagnosed with an extremely rare tumor disorder that would result in 30 surgeries, spanning across many years. She stated, "It was the loss of my house, job, dreams and identity."
Wirtz reached a new low, spending her life savings on experimental treatments, leaving her unable to pay for certain medical expenses. At this point, she asked herself a question of paramount importance, "Who do I want to be?"
She reached out to Karen L. Herbst, a woman who was the leading researcher in Wirtz's rare illness. The two formed a close bond and worked around the clock, experimenting and researching Wirtz's disorder. Herbst taught Wirtz the importance of having hope, something that would stay with Wirtz throughout her experience.
Things began to look up for Wirtz. She ended up becoming the second-leading researcher in her own disease, completing her B.S. at the University of Illinois and completing her Masters in Public Health in Health Promotion and Behavioral Science from San Diego State University.
Wirtz would later move onto humanitarian endeavors by volunteering at orphanages in parts of South America. On top of that, chartering and serving as the first president of United Services Rotary, which focuses on international humanitarian services.
As she finished explaining her life story, Wirtz urged the audience to remember a few crucial things. Specifically, the importance of identifying your intentions and getting clear on your life goals.
Wirtz highlighted the vitality of determination as well, gleefully stating, "Determination is the fuel that will drive your decision to change."
She concluded her presentation with one last violin song but not before saying, "In closing I'd like to offer, not a moment of silence, but a moment of sound, in reverence and gratitude for the unique opportunity we have to grow and give, as we ask and answer the question, who do I want to be?"