B.J. Foster is officially named head coach of the men's basketball team
Hang on for a minute...we're trying to find some more stories you might like.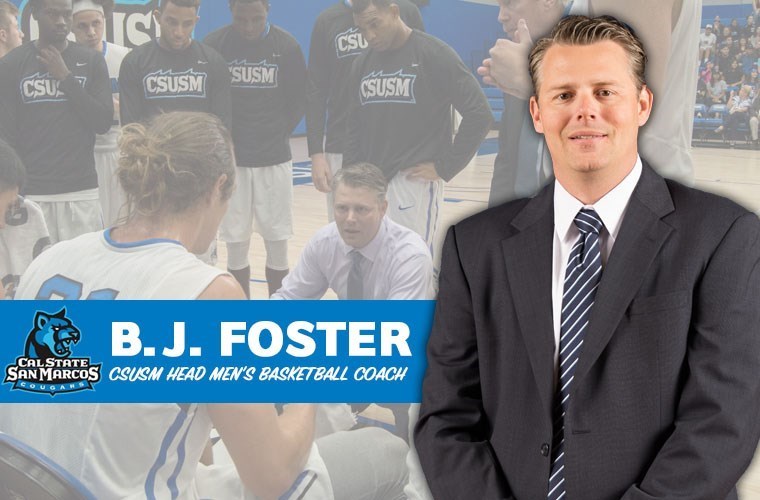 CSUSM officially announced B.J. Foster as the new men's basketball head coach after being the interim coach for the 2016-17 season.
Foster joined the basketball program at CSUSM during the 2013-14 season as the lead assistant coach under Jim Saia, when the Cougars went 32-2 overall and won their first ever conference title.
Since then Foster guided the Cougars to an overall record of 15-12 in the 2015-16 season, earning sixth place in conference. The Cougars placed fifth in the 2016-17 season, earning a place in California Collegiate Athletic Association (CCAA) tournament, if eligible.
"It's a great honor and privilege to be named head coach. I'm very happy to stay here at Cal State San Marcos. I think this is a terrific place to work, and I've developed a lot of great friendships and respect for the other coaches and administrators. I'm excited to coach the returners out of the National Collegiate Athletic Association (NCAA) provisional years and into postseason eligibility," said Foster.
Athletic Director Jennifer Milo said she looks forward to coach Foster's future here at CSUSM.
"He created an incredible team culture this year in which academics was the top priority. Coach Foster fits the vision and culture of our athletics department and our institution. He is a true team player and an integral part of our future success."
With the basketball team still fairly new, and the team hopefully gaining membership in the NCAA Division II, Foster has quite the path to pave.
"My vision for this program is to be a powerhouse in the CCAA. This league has a lot of very good programs with very good coaches. It was important for us to establish that we are a big player in the CCAA. We did it in year one so we can build on it and stay at the top of the league," said Foster.
Students can catch Foster and the team during their next season starting in fall of 2017.