Cougars finish strong at Steve Scott Invitational
Hang on for a minute...we're trying to find some more stories you might like.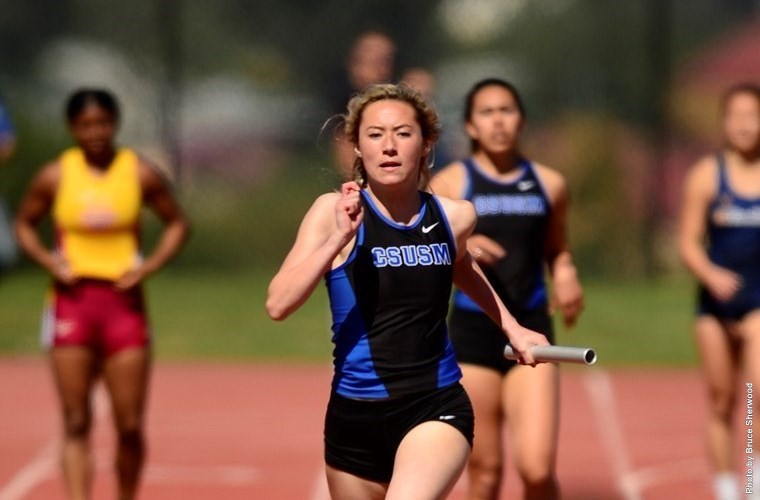 CSUSM men and women's track and field team stepped up in their last meet, the Steve Scott Invitational hosted by UCI, before the California Collegiate Athletic Association (CCAA) Championships in Chico on May 4 to 6.
The tournament is named after CSUSM's head coach Steve Scott, who is an alumni at Irvine and a six-time All-American in both cross country and track for UCI.
The men's team excelled in the 4x100m and 4x400m relays with both teams finishing in fourth. Brian Wright qualified for the CCAA Championships in the 200m with a personal best at 22.17.
In the 800m, Justin Washington ran a 1:53.21 earning him 10th place, his seventh top 10 finish in the event this season. He will  represent CSUSM in the event at the championships next weekend.
"I'm most looking forward to leading my younger teammates to their first track and field championship. Given the amount of freshman on the team, I feel it's my role to provide veteran leadership throughout the trip," said Washington after the meet.
Women's track also accomplished excellent events, with Devony Dettman who leaped her personal best in the high jump at 1.50m qualifying her in the CCAA for that event. Dettman is now in the lead qualifying for five events in the championship including 100m, long jump, 200m and 100h. Natalie Rodriguez ran her second fastest 1500m of the season at 4:32.48 finishing in fifteenth place. Rodriguez qualified for the championships in three events including 800m, 1500m and 5000m.
"I had high hopes coming into my freshman year of track, but qualifying for five events really exceeded my expectations. Sometimes it doesn't feel real, but I'm really blessed to have such a strong coaching staff here at CSUSM as well as such a supportive team," said Dettman after the meet.
With the championships approaching fast the team has a lot to prepare for.
"We've been exposing them to competition better than the CCAA, so hopefully when they go into this meet, they'll treat it like just another meet and not think of it as a championship," said Scott, "I think we have had a fantastic season. We had more people qualify and ranked higher than last year. There's a lot of people that would be able to score [at the championships] and it would be interesting to see what the team would do. The great thing is that we have a lot of freshman, so they're going to be getting experience from competing in the conference meet and it will serve them well next year."