New chief in charge of CSUSM safety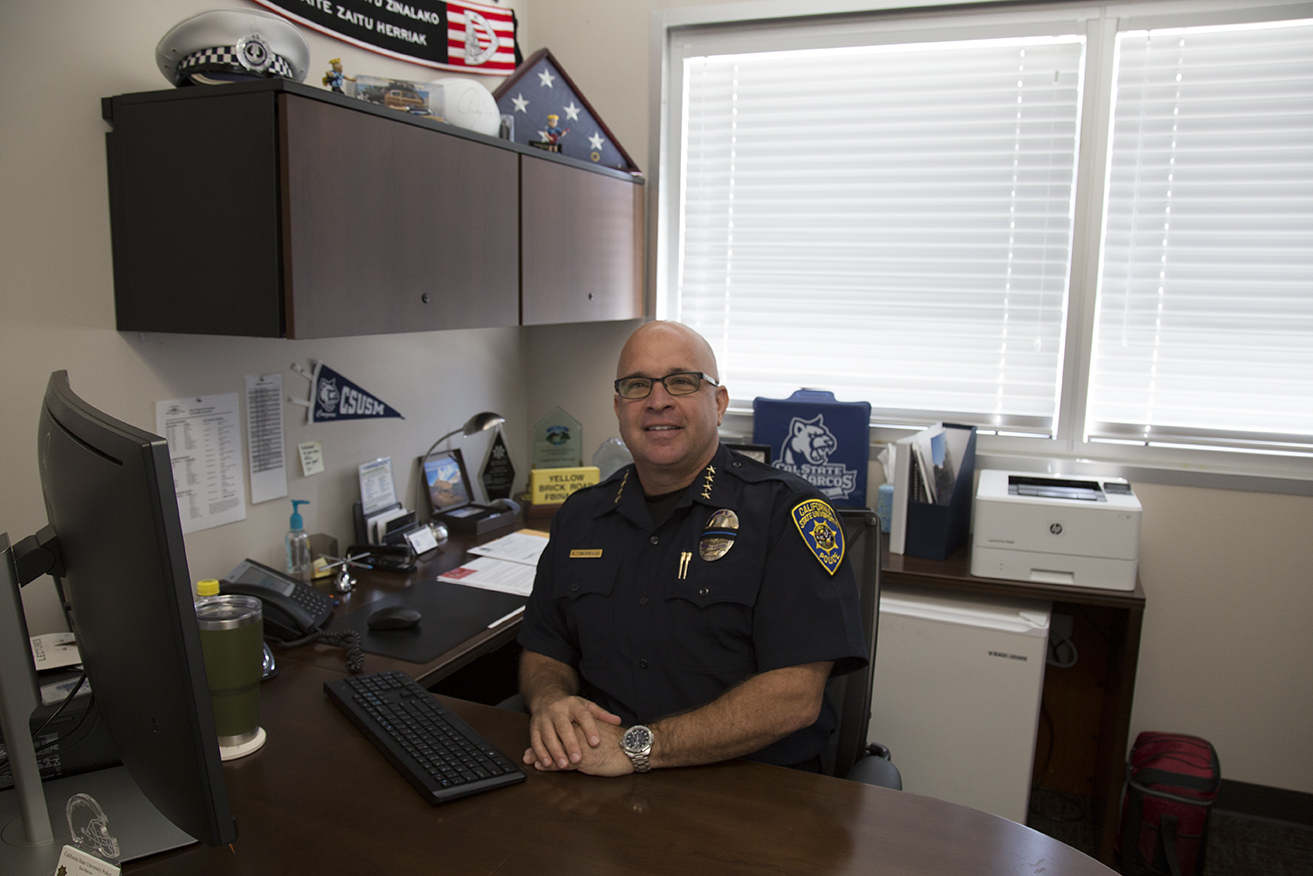 Stephany Mejia, News Editor
September 15, 2017
CSUSM welcomes San Diego native Scott Ybarrondo as its new CSUSM Chief of Police.
After the search for Police Chief last semester by the Search Committee, three candidates presented their biographies and ideas to students in forums on different days. The committee chose Ybarrondo.
Ybarrondo has 26 years of experience in the San Marcos Sheriff's Department and retired as captain in June. Retiring from the Sheriff's Department was not in his plan but the opportunity came after former Chief of Police Robert McManus mentioned the idea after a meeting.
He graduated from the University of Phoenix and earned his bachelor's degree in Business Management and graduated from the FBI National Academy. He is an instructor for the San Diego Regional Training Center.
Ybarrondo was sworn-in on June 20 accompanied by his family and officers of the San Marcos Sheriff Department.
As a sheriff, he was in charge of the community safety and worked close with McManus. He assisted during the 2014 Cocos fire that posed a threat to the safety of everyone on campus.
"I had the responsibility of all of San Marcos, part of Escondido and it was a lot, and as far as the campus went, we communicated with the University Police Department Chief McManus and I didn't have to worry about the campus because they had control of what was going on," said Ybarrondo.
He said he is working on a plan on how to have communication with students but he visits every student center and is around campus during U-hour under the UPD tent. He will recruit a formal group of diverse student leaders to meet with him at least once a month to have a two way communication between him and students.
"One of my goals is that it's very important to me that my officers here, including myself are more integrated into the community," said Ybarrondo.
In an interview with Ybarrondo, he discussed the topics of sexual assault and a potential shooter. Ybarrondo said sexual assault is an issue nation wide and the university has done a good job with the topic but there are always more opportunities of education.
UPD officers are prepared in case of a shooter and it is a possibility that protocols that are already in place could be communicated to faculty, staff and students to make a safer campus.
Ybarrondo addressed the safety of DACA students,  "The University Police Department, we are not immigration officers, our focus is for the safety of everybody on campus. Every student, every faculty member, every staff member and every visitor. With the recent announcement by the government, that has absolutely zero effect on how we police this campus," said Ybarrondo.