CSUSM hosts former Black Panthers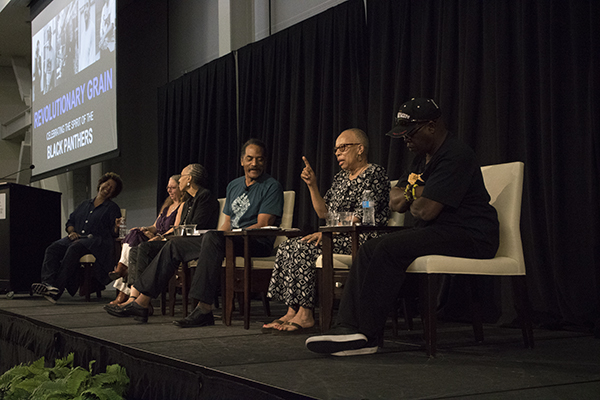 A time of extreme polarization and heated race relations, the 1960's were a turbulent time for the United States of America.
A product of this divisive American era was the Black Panther Party for Self-Defense (BPP). Founded by Bobby Seale and Huey Newton, the party attracted several thousands of members from all ages.
On Sept. 22 in the USU Ballroom, CSUSM hosted a panel discussion with photographer Suzun Lucia Lamaina and four distinguished Black Panthers on the history and legacy of the movement. Lamaina is the creator of the Revolutionary Grain photo exhibit which is currently located in third floor of the Kellogg Library and celebrates the Black Panther legacy through photos and stories.
The former members of the party that were in attendance consisted of Yvonne King, Barbara Easley Cox, Billy X Jennings and Aaron Dixon. Dr. Sharon Elise, professor and chair of the sociology department at CSUSM, moderated the panel and began by asking how the group became involved with the Black Panthers.
At the time, every member was either in high school or college when they joined. Dixon in particular was attending the University of Washington when he joined the party and went on to become the captain of the BPP's Seattle chapter.

The topic then shifted to what everyday life was like for members of the BPP. King said, "We were in a structured organization, there was a hierarchy. You might have an assignment at breakfast center, medical center as a people's advocate, rally, [or go] door to door to solicit donations for breakfast programs."
Meanwhile, Jennings started out selling the Black Panther newspaper and after being promoted into a management position later on, was delegated to be Huey Newton's assistant when Newton was on trial for the murder of a police officer.
Reflecting on what she drew from her years with the BPP, Cox discussed her opportunities to travel and meet people from different causes. "You never let it go. You start to grow with the concept of bringing in diverse groups," said Cox.
Jennings has developed a collection of artifacts and memorabilia from the civil rights and Black Panther movements and stored them in his "It's About Time" archives which have an accompanying website at itsabouttimebpp.com.
Each of the members gave thoughtful insights on their time with the BPP and were a valuable source of historic information for all in attendance.
The Cougar Chronicle: The independent student news site of California State University, San Marcos