Ballet Folklorico teaches diverse Mexican dances to students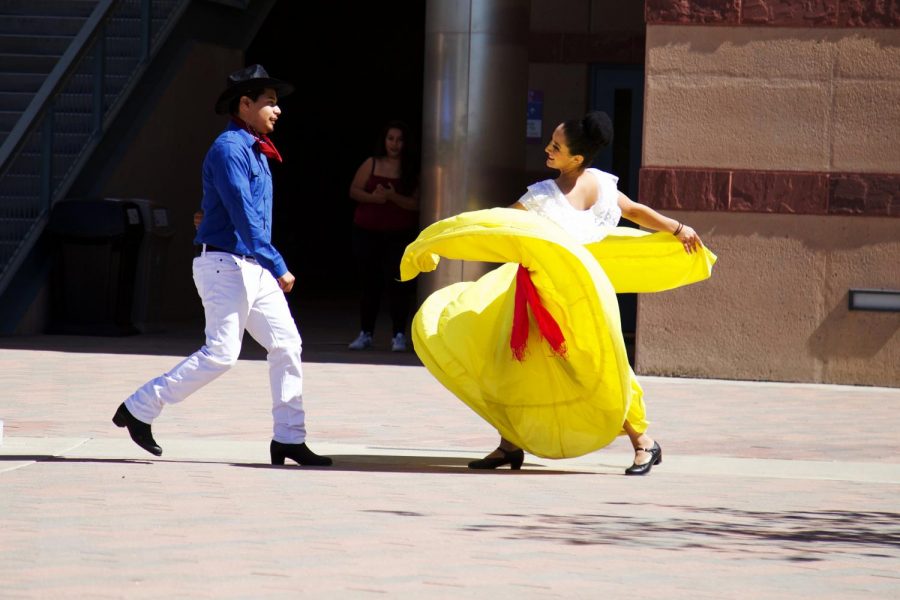 Stephany Mejia, News Editor
October 12, 2017
Ballet Folklorico de CSUSM dances to teach students diversity.
On Oct. 5 Ballet Folklorico de CSUSM hosted, "La Raza del Folklore." The organization held three tables where other student cultural groups taught students the differences of Mexican folklore in specific regions. Ballet Folklorico performed eight different dances.
Standing Together as oNe Dream (STAND) held a table about Queretaro, Ballet Folklorico de CSUSM held a table speaking about Jalisco, Sinaloa, and northern Baja California.  Movimiento Estudiantil Chicano de Aztlan (MEChA) had a table about Nayarit.
Fourth-year student, Maria Sandoval is a member of Ballet Folklorico. Sandoval presented many of the dances.
"Folklorico is very diverse. Diverse in the sense of hair pieces, music, the beat, history behind it, rhythm… everything… that's what we want to educate our peers," said Sandoval.
Sandoval said the students who are performing are engaging by being involved on campus. Apart from their academics, the performers are also learning about the Mexican folklorico. "It's something that I don't think we teach in classes," said Sandoval about educating students.
The event had free food for the first 100 people. They served rice, beans, chicken and pork tamales and horchata and hibiscus tea.
Sandoval presented David Chavez. Chavez spoke about Amalia Hernandez. Hernandez is a famous Mexican Choreographer. Hernandez created her own ballet folklorico school in 1952 named Ballet Folklorico de Mexico de Amalia Hernandez. Chavez said Hernandez inspired many people including himself.
The performance began with a dance from Sinaloa. The females wore orange, yellow, red and blue skirts. In other dances, the males joined and wore a blue shirt with white pants.
Three males and one female danced the second performance from Jalisco. All males in that dance were performing for the first time.
In a second dance performance for Jalisco called 'Jarabe Tapatio,' a male and female performed a duet.
Sandoval participated in three dances representing Baja California. They wore jeans, plaid shirts, and boots. They closed their performance with a well-known Spanish song called La Chona by Los Tucanes de Tijuana.
If interested in joining Ballet Folklorico de CSUSM, they practice every Tuesday and Thursday in the Arts Patio 361 from 6 p.m. to 9 p.m.