Walking Out: Maturity through Experience
Hang on for a minute...we're trying to find some more stories you might like.
There's a difference between information and knowledge. Andrew and Alex Smith's  Walking Out reflects themes affiliated with masculinity and coming of age.
The premise of the film, which was screened at the USU ballroom on Nov. 2, concerns the journey of a teenager named David (Josh Wiggins) visiting his father Cal (Matt Bomer) in a remote area in Montana. During his visit, David will hunt for his first big game. Cal and David become wounded while hunting and are forced to survive the wilderness while dealing with their own inner demons.
As the film progresses, the injured Cal recounts his first big game hunting experience. David's experience then mirrors Cal's and the knowledge from both help both characters transition to manhood.
Cal recalled the disappointment he gave his father for not understanding proper game.  David wants to make amends for accidentally causing his father's injury by proving himself in the situation.
Grand visuals of the snowy mountain landscapes set the scene of  the film, which is accompanied by a score by composer Ernst Reijseger that complements the hearty and perilous moments of this story. Freezing winter is portrayed as both beautiful and dangerous.
The viewing was followed by a panel that consisted of the directors and the author of the adapted novel, David Quammen. Bomer joined via Skype. When asked how David is less resourceful similar to millennials, Quammen said, "… hunting is vehicle for this story of coming to knowledge, coming to full personhood, coming to strength and confidence for the young person."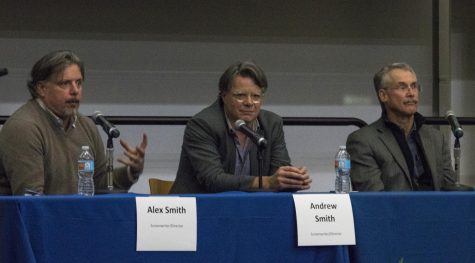 Asked why there are differences in the endings from the film and novel, Smith answered that it was done to show how David will "reinsert what he's learned from his father … into his life."
The theme of the movie is growing up through experience. Maturity is thought to come with age, but is more than growing old and being informed. Experiences guide individuals to walk out into the world mature with knowledge.