Environmental club and Ocean Conservation club facilitate discussion on energy consumption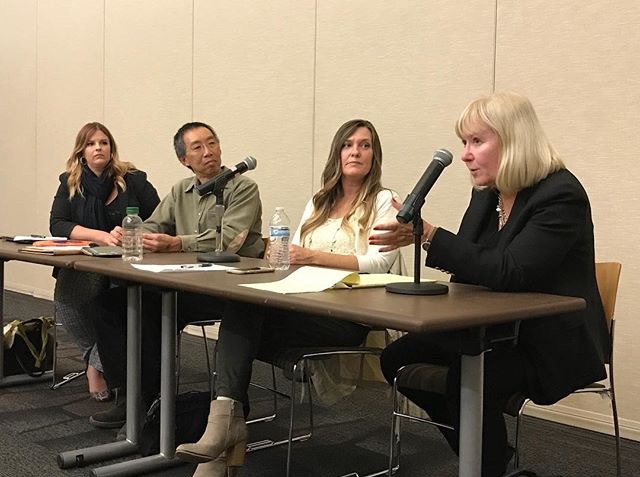 Environmental club and Ocean Conservation club facilitate discussion on energy consumption
Hang on for a minute...we're trying to find some more stories you might like.
Energy. A commodity almost everyone uses everyday.
The question is shouldn't we as consumers be able to choose where our energy comes from and what type of energy it is?
An open forum hosted by the Environmental Studies and Ocean Conservation Clubs on Nov. 21, a panel of experts answered questions like these.
The panel discussed Community Choice Energy (CCE) — what it does and how it affects you.
"Community Choice Energy is a set of local policies and potential businesses to give consumers a choice when they select their energy. Right now if you live in San Diego County you get to buy from SDG&E you don't get an option." said CSUSM Director of Energy and Utility Services  Lindsey Rowell, who served as the panel's moderator.
The panelists included:
— Leah Bissonette, who has 40 years of experience working in energy and the environment and  vice president of Sunshine Soldiers, a global electric generating and distribution company.
— Wendy McDowell, who works with the CCE for Coastal North County. McDowell worked in conservation biology for 15 years before transitioning into business, operations and project management.
— James Wang, environmental commissioner for the City of Encinitas .
"Speak up, use your voice, you have the choice and a lot of you know that already… go to your cities talk [to] commissions [and] to the counsel," said Wang.
In questions from the floor after the discussion, senior Sarah Johnson asked how we, as consumers, can be sure our power is renewable energy and not just a scam?
McDowell answered: "That's one of the whole purposes of the CCE program is the transparency. So because these entities and CCAs (Community Choice Aggregation) are operated on a local level by elected officials … You can have your voice be heard and also hear what they are doing."
If students want to learn more about CCE or ways to get involved contact, the environmental club at CSUSM through their instagram @csusm_environmental_club.