Review: Pixar's Coco delivers a heartfelt film on Mexican tradition and family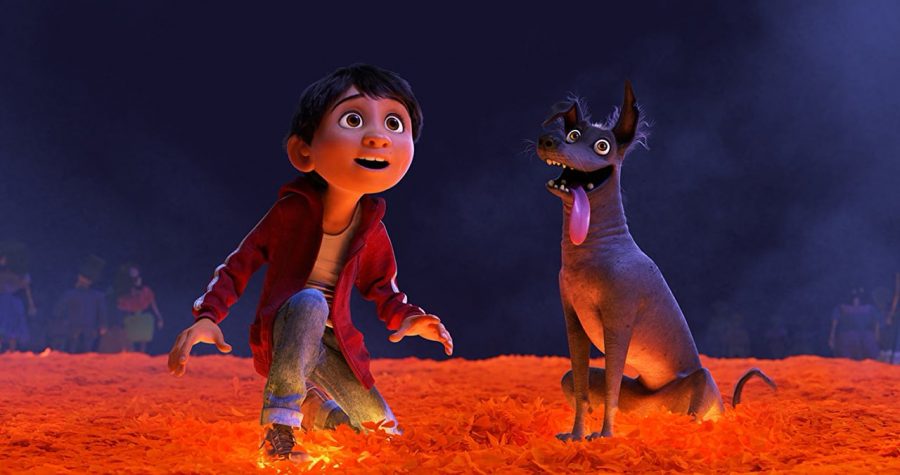 Bryanna Martinez, Assistant Opinion Editor
December 8, 2017
Cue the beautiful lights, a heartwarming story and traditional Mexican folk dance music. Pixar and Disney have done it again, another blockbuster hit, the film, Coco.
The film is about a boy, named Miguel Rivera, who is cursed because his family does not like music yet he plays guitar and idolizes his hero, Ernesto De La Cruz. Miguel's great great grandfather left his family to continue his passion of music. When Miguel's family finds Miguel's guitar they destroy it. On the night of Dia De Los Muertos and a competition in their town, Miguel walks inside of the mausoleum of De La Cruz and takes the guitar to compete with in the competition, strums it and is taken to the "Land of the Dead." Miguel then meets with his late family members and teach him a lesson of family, listening to them and honoring them; while encountering Hector, another comedic character, who is in part of a huge plot twist.
The voice over roles of the characters are Benjamin Bratt as the famous singer Ernesto De La Cruz, Gael Garcia Bernal as the comedic Hector and new breakthrough actor Anthony Gonzalez, who voices the lead role of Miguel.  Bratt, Bernal and Gonzalez lend their acting and singing roles for the film.
Bratt's character De La Cruz is too believable up until the plot twist occurs and his devilish grin as the antagonist reveals — he poisons Hector and steals Hector's songs in order to become famous.
Directed and co-directed by Lee Unkrich (Director of Toy Story 3) and Adrian Molina (Storyboard artist of Monsters University), use their talent to create a beautiful masterpiece.
With the help of consultants such as cartoonist Lalo Alcaraz and some research of the plot and storyline, the directors and producers of Coco journeyed to Guanajuato and Oaxaca, Mexico, to learn about the culture and towns, as well as participate in the celebration of Dia De Los Muertos.
With a nearly all Latino cast Coco provides accuracy and representation of Mexican culture and the beauty of "The Day of the Dead". This film will make you both laugh and cry — tissues are highly recommended for this film.