Literature and Writing club presents a student open mic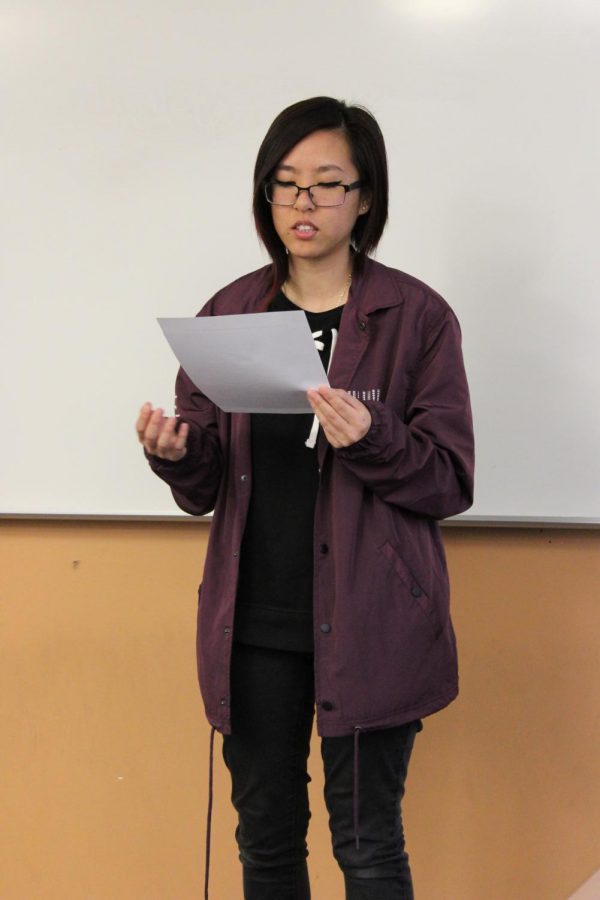 Carefully pieced together poems and short stories were brought to life by more than 15 CSUSM students, on Nov. 30 during the Open Mic event hosted by CSUSM's Literature and Writing Club.
From readings that tugged on our heart strings, to pieces that had students laughing so hard, that keeping the complimentary pizza in their mouths seemed almost impossible. This event gave participants the opportunity to share their creative masterpieces.
The crowd was filled with more than fifty students, a handful of professors, all coming together to bring a warm welcome and encouragement to their peers who let their passions shine- despite not having much experience sharing their work out loud.
Stepping out of her comfort zone, was freshman Madi Hart who was one of many to present her work. After sharing her poem titled 'Desert Dog,' Hart said that she "thought the open mic [event] was interesting because [she] loves to hear other people read their own writing." She then said  "It [was] cool to see so many thought processes and outlooks. I was really nervous to do my own reading, but it was also really cathartic and fun."
The Literature and Writing Club meets every Thursday during U-hour in Markstein Hall 208. Plans of future open mic events for students to share their creative sides, are in the works for this upcoming semester.  
Students who signed up to share their work included: Kristen Gonzalez-Valle, Jeremy Whittaker, Lara Amin, Cameron White, Jonathan Lerum, Madi Hart, Jacqueline Gadi, Lani Nguyen, Robbie Hammel, Sarah La Liberte, Emily Ruggieri and Moises Aguilar.