Comedians bring laughter to CSUSM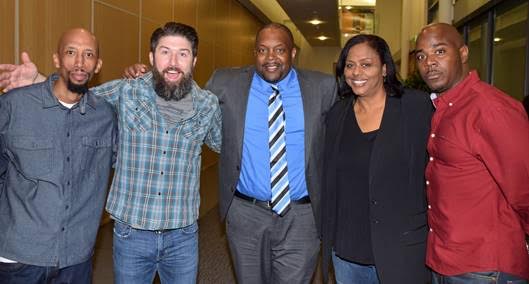 Hang on for a minute...we're trying to find some more stories you might like.
Carter G. Woodson, a historian who focused on African-American history, worked with other prominent Black figures to implement Black History Month, which has been recognized by every US president since Gerald Ford in 1976. Black History Month honors the contributions of Black Americans to American society and recognizes them as a central role in our history.
On Feb. 2, the Black Student Center (BSC) sponsored Stand-up Comedy Show in the USU Ballroom, 6  through 9 p.m. The BSC hired four comedians to perform in order "to kick off black history month," said the BSC Associate Director, Anthony Jett.
Cookies and refreshments were available to snack on before and during the show.
The night started with host, Olivia Allen-Arrington, taking the stage. She welcomed the audience and began discussing Black History Month. Her act consisted of what common issues we as a community face through satirical and racial comparison. Issues like family and diets were entertained through her masterful use of facial and body expressions. Arrington closed with a stab at Mira Costa college for hosting a similar show in the next week.
TruTV's "Laff Tracks" Jamal Doman was then introduced. Doman's routine consisted of bawdy humor focusing on experiences and generalizations with women. His audience interaction was exceptional, pulling random audience members, even those coming in late, into his act. Addressing those who were reporting on the show, Doman said, "look I know I'm saying all this stuff about eating p—- but you need to write me as a nice Christian comedian."
Next iHeart Radio and Netflix's Jon Stringer took the stage. Immediately, Stringer broke out dancing to "Single Ladies" and throughout his act, his extraordinary choreography captured the attention of the audience. His action-comedy constantly improved with every caricature of known celebrities like Adele and his wife. He then shifted into addressing homophobia, efficiently confronting the matter in a sexually humorous way. He closed off with a bawdy pun about being crippled in the gym earning Arrington's hearty laughs.
Tobe Hixx, from "Laff Tracks" and Dope Dealers (podcast), was introduced next. Hixx's act started rough, but his aggressive jokes regarding annoying commercials, the Trumps and the Obamas won the crowd over with his high intensity. His act was ethnically centralized until he switched to closing with emaciation. Hixx creatively cultivated empathy from his audience as he said, "F— fat people, nobody feels my pain," in order to emphasize that emaciated individuals are in just as much pain as the obese.
To finish off the night, Arrington came back on stage to thank the BSC and organizers of the event.
For more information on the BSC and future events visit https://www.csusm.edu/bsc/index.html