CSUSM play "I & You" tells the story of an unlikely pair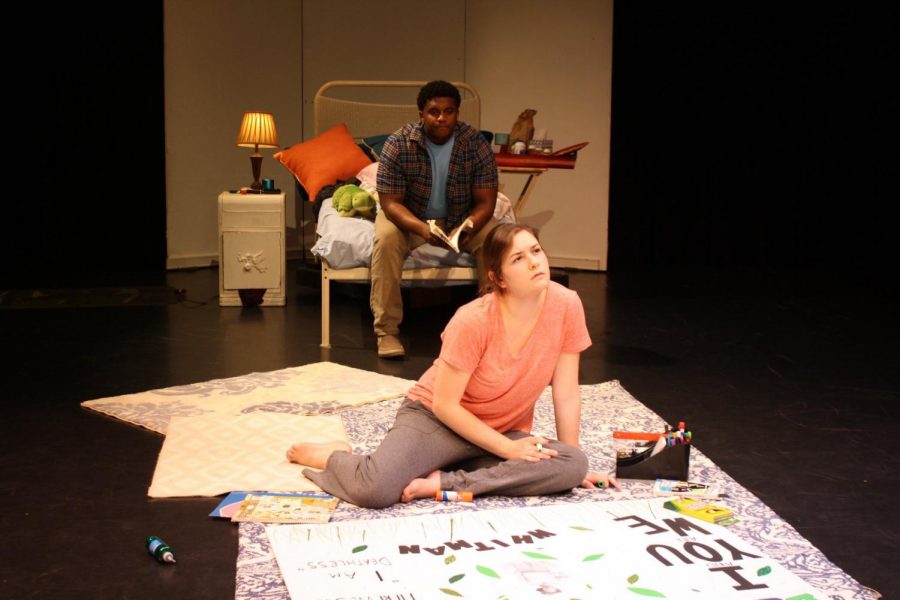 CSUSM's School of Arts presented "I & You" from Jan. 8 to 10. Directed by CSUSM professor Jason Heil, the play portrayed a story about two strangers that go through a life changing experience together, one which will not be forgotten.
The play begins by introducing Caroline, a cynical, creative but gravely sick teenage girl (Dominique Duren) and the charismatic, kind-hearted 17-year-old Anthony (Dwaine Jordan Collier Jr.).
Anthony shows up unannounced at Caroline's house for an American literature project that they must complete together but Caroline instantly refuses to help and is, as Anthony expressed, "impossible" to understand at times. However, as time goes on, the unlikely pair begin to grow fond of each other through music, dreams and most of all, poetry. The poem "Song of Myself," by Walt Whitman, is a major part of the story line, not only does it embody the intricacy of life, but it's also the thing that brings the two together. Caroline talks about how her illness has put her life on hold and Anthony reveals how he had witnessed a teammate on his basketball team die suddenly during a game. Both characters have had their dance with death, but they do not let this interfere with their bond, they allow it to make it stronger.
The play ends with the reveal that it was all a façade.
The boy that had died on the basketball court was Anthony himself. Caroline had been dreaming of their interaction while recovering
from a liver transplant, one from which the organ donor was Anthony. "We stand here. Because you were on a list. And you got a call today, there's a donor…" said Anthony. Slowly, Caroline awakens now ready to live her life as the play ends.
From playing "Balls on Fire" by Jerry Lee Lewis to the lock of lips, the theater production was jam packed with all kinds of emotions.
With such complex characters in an intimate setting Duren and Jordan Collier Jr. portrayed their characters with fiery passion and performed a moving piece that left the audience astonished.