Sage the Gemini to headline at CSUSM's second annual Festival 78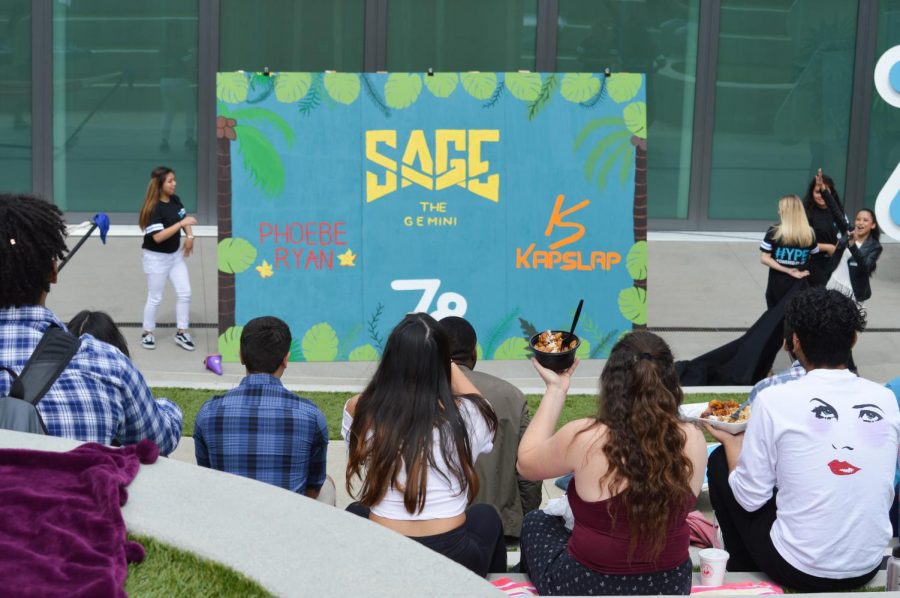 Bryanna Martinez, Sports Editor
March 28, 2018
Free Little Caesars pizza, Associated Students Inc. (ASI) Merchandise, a DJ blasting Drake's "God's Plan" and ticket vendors comprised this year's Festival 78 artist reveal event on Mar. 13 during U-hour.
Students signed in and gathered at the USU as ASI announced the artists performing this year's Festival 78 on Apr. 7 from 3 p.m. to 7 p.m.
Before the artists were revealed, sophomore Laura Lopez said she guessed the main artist "will be known like last time."
This is CSUSM's second year holding the festival at the Mangrum Track and Field. Last year's main performer was hip-hop and R&B singer Marc E. Bassy. This year, the event will boast double the amount of music artists than last year.
As the event began, ASI's "Hype Team" gave away CSUSM hats and blankets as students answered questions about the festival. The questions asked ranged from the date and location of the festival to its prices.
The headliners are Phoebe Ryan, known for her collaboration "All We Know" with electronic dance music (EDM) production duo The Chainsmokers', EDM-DJ Kap Slap and rapper-singer Sage the Gemini. The opening act is CSUSM's own Blind Vision, a Ska group.
Also they announced other events and vendors at the Festival 78, such as the "Oasis area" which will feature student DJs, a "Hippie Lane" for the inner-Coachella individual and Kona Ice shaved ice.
The cost of entry for the Festival 78 is $10 for students and $15 for guests (one guest per student). Tickets will be doubled on Monday, Mar. 26.
For more information on the Festival 78, tickets are sold on this link: http://www.bit.ly/78fest