Ballet Folklorico performs for Hispanic Heritage month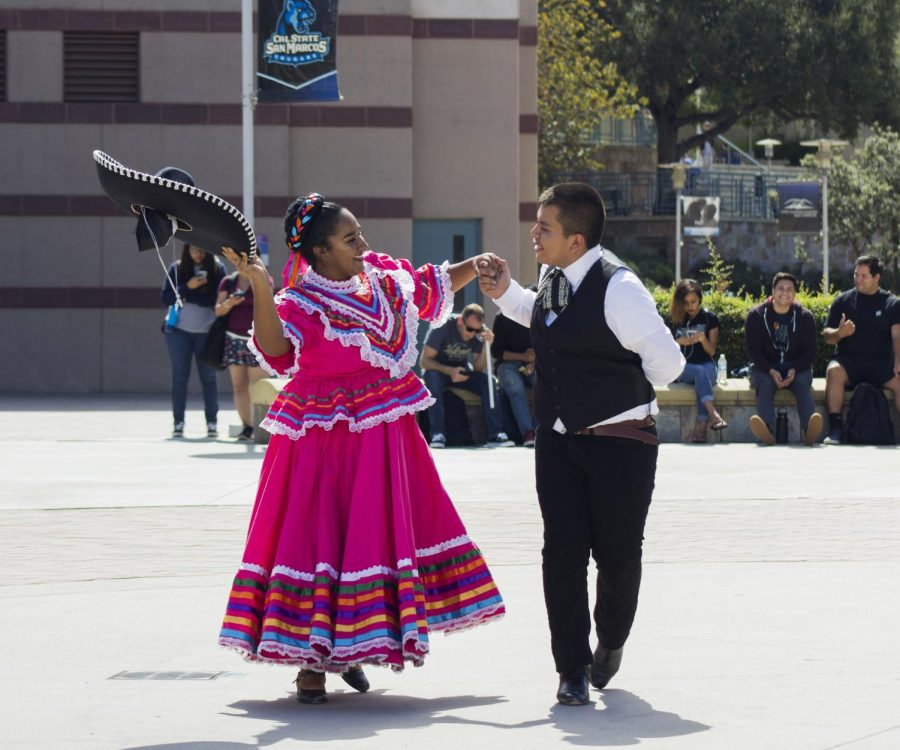 Hispanic Heritage month brings students to Kellogg Plaza for a very special show.
Ballet Folklorico de CSUSM created a two part region dance showcase, La Raza de Folklore,  for students on Thursday, Oct. 4 during U-hour.
President of Ballet Folklorico Veronica Vaca gathers everyone in the organization every October to perform Mexican folklore dances. According to Vaca, the term raza stands for "culture" and many associate the word with specific hispanic groups.
The first region, Jalisco, is known to have more traditional and "mariachi" type dances. Vaca said, "We come up with choreography on our own, one of them is the standard traditional dance so it is the same thing but you can put your own twist on it." The second dance, Jarabe, is more of the free style dance Vaca spoke of, containing a male and female dancing happily together. Jarabe is known to be the "wedding" song, Vaca said, "it is supposed to signify a wedding, that is why there was only a pair." During intermission, the organization served free tamales along with regular or cheese flavored tortilla chips and soda. After intermission, the second region called Sinaloa, danced to what Vaca said is more "celebration, upbeat, modern" music.
The ladies dressed in long flowy colorful dresses, while the men were dressed in a white button up along with a black vest and black sombrero. The costumes were "very specific to the region," Vaca said, "One of the big things, in specifically these two regions, you try to attract people with [is] color. More vibrant the better, not a standard dress, it's the dress with the ribbon and the lace."
According to Vaca, they experienced some technical difficulties and were worried about the weather due to it raining during their dress rehearsals the day before "but everything went pretty smoothly."
Ballet Folklorico de CSUSM is a Mexican dancing organization and club that is open for anyone to join, people off campus or part of the community are also welcome to join. Even, a CSUSM alumni and former member was able to participate in the dance showcase, "Anybody can dance and organization is open to anybody on campus as well as community members, one of the members is actually a former member but she is still in the community," Vaca said. Participants are able to learn a variety of dances originated from Mexico's different regions.
Anyone interested in dancing or being a part of Ballet Folklorico de CSUSM, for more information, follow their instagram at @bfdecsusm. The organization meets Tuesdays and Thursdays on campus at the ARTS patio.