Open mic showcases original student work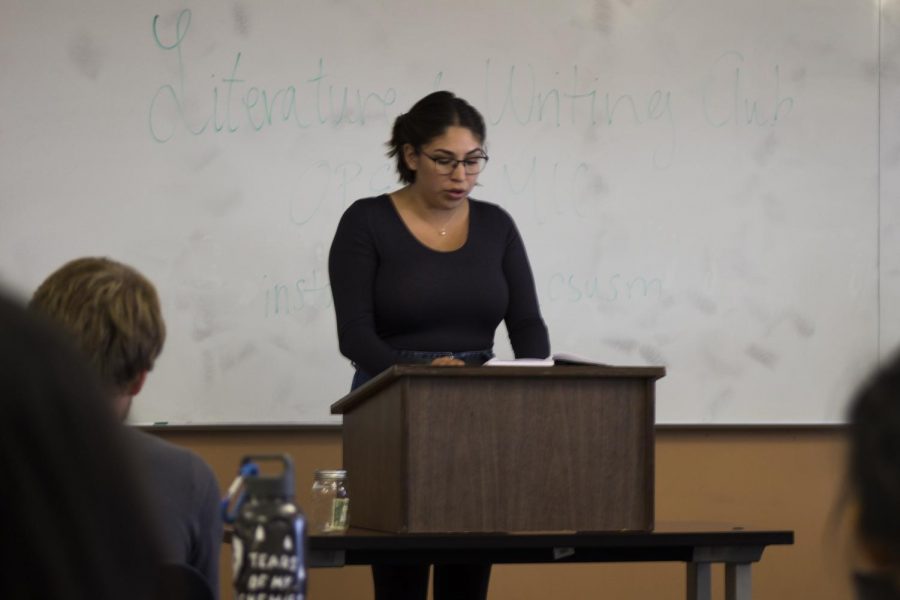 On Oct. 4 during U-hour, the Literature and Writing club presented an open mic. The event took place in Markstein 208 and included a myriad of original student work. More than  20 students exemplified their talents in creative writing through traditional poetry, short stories and slam poetry.
Students were encouraged to submit their original pieces. The speakers presenting their original works ranged in topics from love to heartbreak using a plethora of literary styles. The event's purpose was to "showcase the work that students do throughout the semester […] and to give student writers a chance to present their work." said Lara Amin, Literature and Writing Club president who is also The Cougar Chronicle's assistant arts editor. "It's not just poetry and prose. You can bring short stories, we encourage singing, musical performances, rapping. We've had that in the past."
The open mic was an event weeks in the making. The club held workshops and critiques during meetings in order for speakers to practice with constructive criticism.
"A poem is never really finished, you just keep working on it and adapting it with age as you become more knowledgeable," said Nikole Barnes, a speaker at the open mic who presented her untitled slam poetry.
The open mic event was also an effort to raise money for the club. Every club meeting and event the Literature and Writing Club presents is a fundraiser towards their goal to obtain official Literature and Writing Club shirts. Members are attempting to purchase the attire in order to promote unity within the club and keep a professional image of their organization.
"We haven't had T-shirts in about three generations of the club," said Literature and Writing Club Vice President Elizabeth Phung. "We're trying to look official on campus."
The club is planning on their next open mic event to be the week before Thanksgiving break and look forward for the entries and art that will be submitted. Members and non members of the club are encouraged to perform in the open mics to come throughout the year.
"Anything you wrote you can present," said Phung.
For more information, students can visit the Literature and Writing Club page on Instagram @LTWRClub_CSUSM or the website https://www.csusm.edu/ltwr/clubs.html