Learn to create an artistic book cover to protect your textbook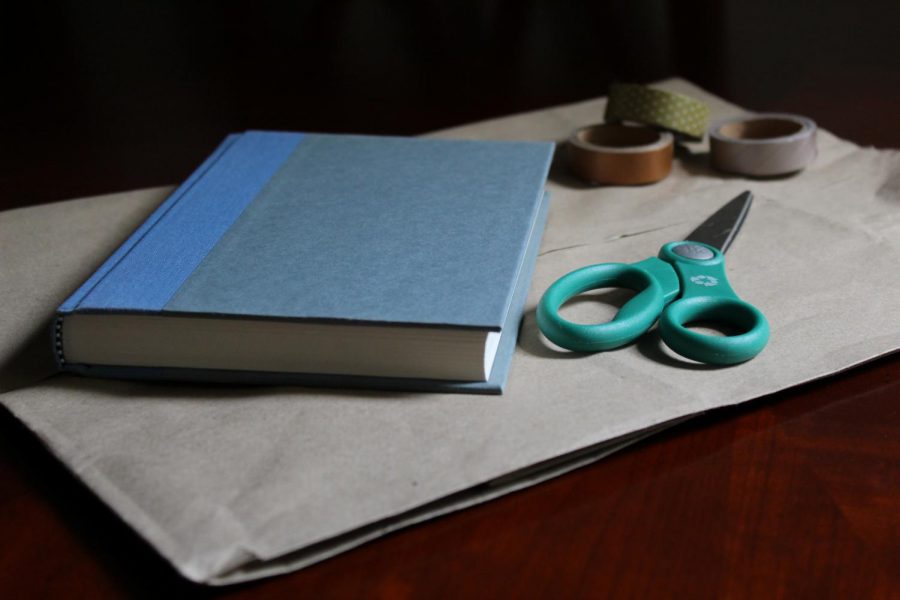 Stephany Mejia, Assistant Features
October 13, 2018
Three simple materials can create an amazing and cute look for all books.
Although it is halfway through the semester and this fun DIY can be done as a fun study break or as an excuse to procrastinate.
Paper bag book covers is a great way to maintain your books uniformed, protected and unique. It can also give a minimalistic look for aesthetically pleasing book shelves. It is a fun DIY that can be done in such a short amount of time.
Most of the materials are already found at home or the paper bags can be found in most grocery stores.
To create a paper bag book cover, the materials needed are: a pair of scissor, a paper bag or wrapping paper, a book and some tape of choice. The time needed to create the book cover is approximately 10 minutes.
First, take the bag and flip it to the side. Cut right through the middle of the side of the bag and cut off the bottom of the bag. The bottom of the bag can be thrown away.
Second, lay the paper bag flat and place the book on top. There should be excess paper, approximately two inches, surrounding the book which will be used to create flaps. Open the front cover of the book and fold a side of the paper over the cover. Open the back cover of the book and fold the paper over the cover. Make sure the paper is neatly folded with straight edges.
Third, fold the top and the bottom of the paper matching the top and bottom edges of the book. These folds will be tugged in behind the side flaps.
Forth, open one side of the book and insert the cover in one of the flaps. Repeat this process for the other side of the book.
Fifth, to keep the cover in place, use tape. To make it look more decorated, washi tape is recommended. The tape could be placed at each corner of the book or it could be placed on the top and bottom edges.
The paper bag book cover is now completed but it can be still be customized. It is a great cover to add doodles or practice calligraphy.
These DIY book covers can change the look of a basic composition book to a modern journal that costs about $15.
The cover can used for any style books and it can come in handy for many years to come.