Street preacher and Pride center advocates clash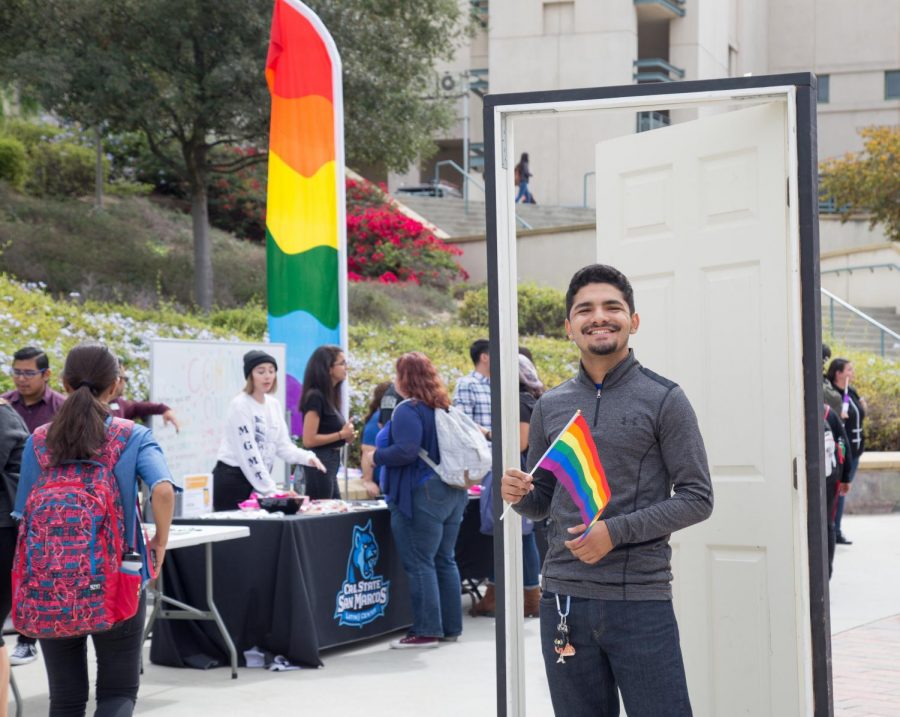 Tensions arose in Kellogg Plaza between the LGBTQIA+ Pride Center and a campus street preacher during the National Coming Out Day celebration.
While the CSUSM Republicans Club held its first ever public debate.
The tenth annual National Coming Out Day celebration was held on Oct. 11 from 11 a.m. to 1 p.m. The Pride Center provided rainbow wristbands, flags, candy and a closet door for students to interact and take photos with. The event's purpose was to celebrate students' identity in the LGBTQIA+ community and to support students that become open about their sexual orientation.
Tensions began to arise when a campus street preacher, who did not wish to speak to The Cougar Chronicle, began yelling in front of the National Coming Out Day tables. Many of the Pride Center organizers and students formed a human wall around the tables by turning their backs against him.
One student, who was not affiliated with the Pride Center, began following the open-air preacher while playing Tomfoolery from the SpongeBob soundtrack. Campus staff eventually asked the student to leave.
Pride Center Peer Educator Savannah Metcalf waved her rainbow flag at the preacher, yelling, "I'm here, I'm queer, deal with it!" This prompted a few other students to follow suit until the preacher left.
"I think it was kinda funny seeing nobody's stopping for him… We were at our busiest when he came out and started talking. I can see he's already gone because no one was paying attention to him, so I think that the students on campus really spoke," said Robert Aiello-Hauser, the director of student engagement and inclusion at the Pride Center. "They were around the table all with their backs to him and doing what they needed to do and waving their flags, coming through the door. He did not in any way intimidate or really get in the way of what we're doing."
Meanwhile, Tacoma Parris, a member of the College Republicans, invited students of all ideologies to challenge his beliefs in civil debate. The topic of debate was written on poster board and read, "White Privilege is a Myth, Change My Mind."
This discussion garnered a large crowd of students. While the discussion between Parris and the myriad of students who discussed their opinions on the validity of white privilege were mostly respectful and well-mannered, shouting matches would occasionally erupt between the crowd members.
Metcalf from the Pride Center, said that the presence of the two groups was not a coincidence.
"I believe that there's no way that these two groups are here literally in [this] location just because it's chance. I think they're here on purpose," said Metcalf. "When you come and you are yelling over people who are taking pride in who they are and you're putting up a sign that literally degrades every step we've ever taken towards civil rights, there's no way that it's not on purpose."
Members of the College Republicans Club, however, denied these allegations. Multiple members of the club and Parris, confirmed that the debate was originally scheduled for the previous Thursday, but was moved a week ahead due to the possibility of rain.
Members said that the debates are not motivated by hate, but by the need of factual discussion in the midst of the current polarizing political landscape.
"We just set up here. It was not a direct attack on [the LGBTQIA+ community]. We don't care. If you want to be gay or whichever spectrum you fall under, by all means, we support you," said Parris. "Do what you think your truth is, we just ask them and everybody else the same thing of us."
The College Republicans Club plans on holding more public discussions with different topics in Kellogg Plaza.
For more information about the Pride Center visit https://www.csusm.edu/pride/index.html. Find information about the CSUSM College Republicans at https://www.csusm.edu/orgs/csusmcollegerepublicans.html.