Sports medicine program cares for athletes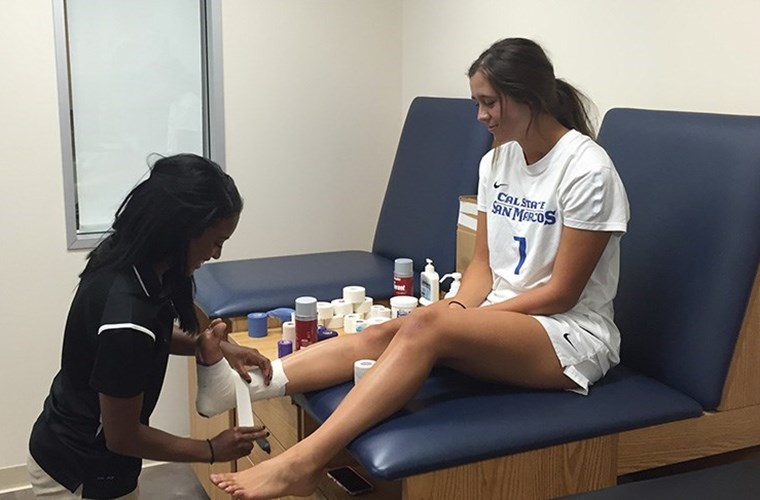 Kathryn McMahon, Sports Reporter
October 27, 2018
Behind the 300 student-athletes, there is a team that provides care for them: the sports medicine program.  The sports medicine program was created when athletics was introduced to CSUSM, as athletics cannot run without the sports medicine program, as there would be multiple issues.
Head athletic trainer, Paul Signorelli, who stepped into his role about a month ago, said the goal of the sports medicine program is "to provide comprehensive care to all of the intercollegiate athletes at CSUSM."  
The care includes orthopedic evaluation, rehabilitation, preventative care for injuries, general medicine, and referring the athletes to the health center and nutritionist. They are able to refer athletes to the health center and nutritionist, if they detect any major issues or dietary needs.
A day to day role for the athletic trainers is not a typical nine-to-five day, it is a unique profession and are constantly in motion since there is no off season in sports.  
"Initially in the morning, we are setting up for practices," which includes setting up fluids and preparing the team. The trainers travel with the higher risk teams including basketball and soccer to prepare and be present if an injury occurs. When travelling with the team, they are able to assess an injury during a game or if a player is having issues with a body part," said Signorelli.   
Sports medicine has an internship program for CSUSM students. This internship asks for a commitment of one year and about 10 to 15 hours a week.  The internship allows students to learn athletic training skills and receive hands on experience working with patients, and the intercollegiate athletes.
"The interns are really valuable to us. I think the interns, it's an exchange, they help us and we help them," said Signorelli.
Students interested in the internship do not need to be kinesiology majors in order to apply, but need to have some knowledge of anatomy and athletic training.  
In addition, students must have Professional Rescuer CPR and First Aid certification.  
In order to apply, there is an application which can be found on the CSUSM Cougars website and must submit a cover letter, resume, academic transcripts and a class/activity schedule form.
For more information, students can visit the sports medicine program website https://csusmcougars.com/sports/2014/10/28/Sport%20Med_1028142939.aspx?path=sportmed#athletic_training .