Make balloons into an easy Halloween costume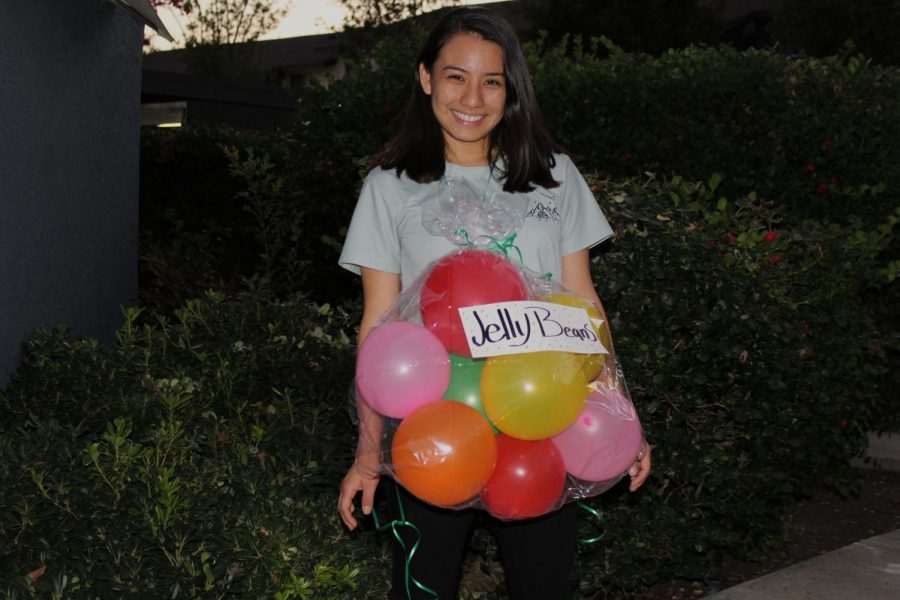 Stephany Mejia, Features Assistant Editor
October 27, 2018
Halloween only comes once a year and it is a great opportunity to show your creativity. Costume stores sell expensive costumes in which will only be used once. Instead of spending too much money on a costume, create a fun DIY!
Make a  jelly bean bag. It is easy  and will take less than 20 minutes to make. Most items are found at home or they can be purchased at the dollar store. The materials needed are: different colored balloons, one or two clear plastic bags, ribbon, tape, scissors, a piece of paper and markers.
A single plastic bag can be used but for a fuller jelly bean bag look, use two clear plastic bags.
Step 1: Blow up approximately seven balloons for each bag. The number of balloons can vary depending on the size and shape of the balloons and the size of each clear plastic bag.
Step 2: Stuff the bags with the balloons and tie the top of the bags and secure it with the ribbon.
Step 3: In order for the bag or bags to stay in place, tie another piece of ribbon at the tip of the bag if using a single bag. If using two bags for the fuller look, tie a piece of a long ribbon to the tip of the front bag, later with the same leftover piece of ribbon, tie the back bag at the tip as well. Make sure to connect front bag with back bag with the same ribbon.
It should create a hole big enough to place over the head and rest it on the shoulders.
Step 4: For the fuller jelly bean bag look, make the bags more secure by taping ribbon from both sides of the bags to tie at the side of the body. For the single bag costume, tape ribbon in the side of the bag that will be against the body and tie the ribbon around the body.
Step 5: To finish off this jellybean bag costume, grab a piece of paper and cut it approximately five inches long and eight inches wide. Write the words jelly beans on the piece of paper and decorate it. Then tape the piece of paper to the bag.
Voila! The costume is completed.