UPD takes down white nationalist posters, prompts investigation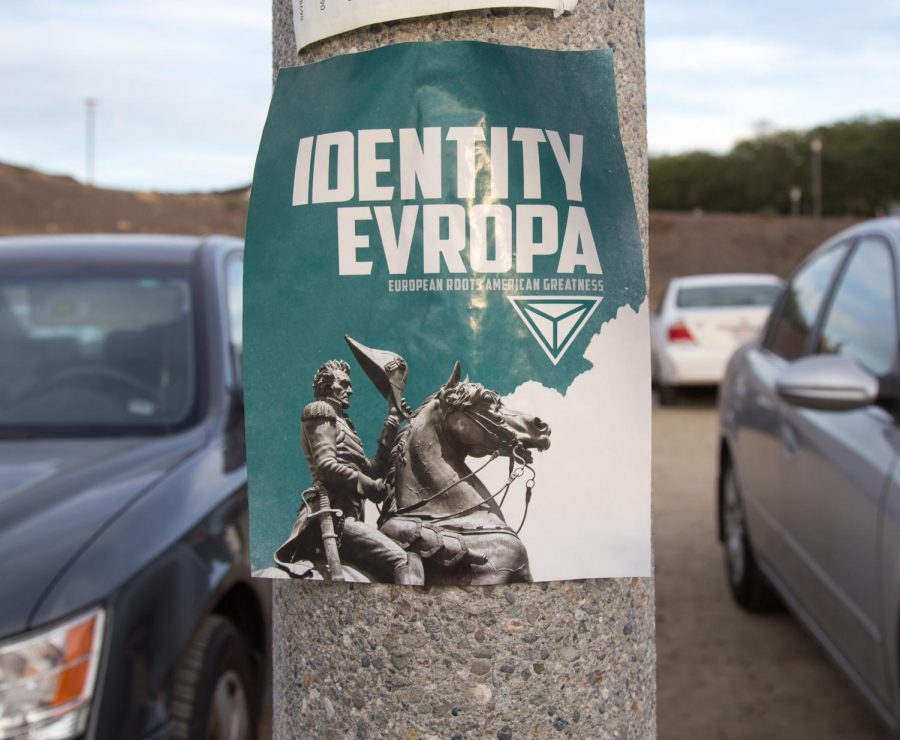 "Identity Evropa, European Roots American Greatness."
This message was found in several locations of the CSUSM campus on Monday, Oct. 29 and taken down by University Police Department.
Half a dozen to a dozen posters were found in the following locations: by the bus stop in Craven Circle, the light pole in front of University Hall, a wall near the entrance to the Kellogg Library 3rd floor, light pole near science Hall 2 and in SBSB, according to Associate Vice President for Communications Margaret Chantung.
President Karen Haynes sent a school wide email on Tuesday, Oct. 30.
"The posters, which advertise an organization that is identified by multiple civil rights organizations as a hate group, were documented … "
A staff member reported the flyers on campus. The university administration reviewed the posters, and determined that the posters violated campus policies, and proceeded to ask UPD to remove posters.  
In a phone call with Jeff Caudill police and community engagement officer said The Office of Communications deals with communication matters regarding this incident. He couldn't answer any more questions.
Chantung said they haven't discovered who put the flyers, and that UPD reviewed campus footage and wasn't able to identify who it was. UPD is still investigating, but there is no crime.
In an email interview with Identity Evropa spokesman, Sam Harrington said what the group Identity Evropa stands for.
"Identity Evropa is a growing movement of people of European heritage in the US standing for the restoration of the American nation. We reject the slurs used against us, as advocacy of supremacy or illegal activity is not permitted in our movement," said Harrington.
Throughout the past months, the group has visited several locations in California including several states like Arizona, Colorado and New York.
The reason the administration asked UPD to take down the posters was due to the group Identity Evropa violating the CSUSM posting policy, according to Chantung.
"Immediately we documented the presence of these, and then took them down because it violated CSUSM posting policy."
CSUSM's posting policy says that outside organizations "must include the name of the author (sponsoring individual or organization) and the date posted. Postings will remain on the boards for one month. Posting that do not contain this information will be removed."
Therefore, if an outside organization violates the campus poster policy they will "be contacted by university officials, and future limits may be set on their access to campus posting venues."
At the end of Haynes' email she said hate is not allowed at CSUSM.
"I want to be clear: White supremacy and anti-Semitism, or any other doctrines that expose hate and elevate one group above another, have no place at Cal State San Marcos," Haynes said.
President Haynes said she encourages everyone to stand up against hate.
"We strongly condemn language and actions that promote racism, anti-Semitism, homophobia, violence, discrimination and other forms of hate…Together, let's stand up for diversity, inclusion and respect and stand against all forms of hate."
The Cougar Chronicle The independent student news site of California